Great Northern Freight Car Model List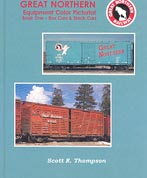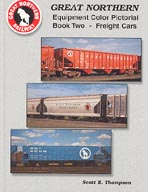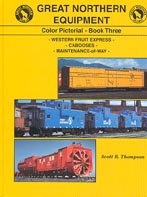 This section contains modeling information contributed by Scott Thompson, Ted Fandel and others.
Scott has authored three books on Great Northern freight equipment. All 3 books were published by Four Ways West Publications, P.O. Box 1734, La Mirada, CA 90637 in 1995, 1996, and 2000.
Ted has been a member of GNRHS since 1979. His primary modeling interest is the Spokane, WA to Nelson, BC branch line during the 1960's. Ted is currently working on a small layout of the branch and kit-bashing appropriate equipment.
Click on the car type links to the left or use the handy Search by Number Series which will take you to the specific modeling page for that car.
In each modeling description there is a section titled 'Reference'. This refers to either a book or article for model and prototype photos and additional information. The most common references are:
Great Northern Equipment Color Pictorial Books 1, 2 and 3 by Scott Thompson
Great Northern Passenger and Freight Car Color Guide by Dave Hickcox
Lines East by Pat Dorin
Great Northern Railway Historical Society Reference Sheets
Mainline Modeler magazine
Model Railroader magazine
Rail Model Journal magazine