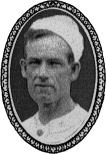 Dan Timm

A perfect meal is conducive to a complete feeling of satisfaction, not alone to the diner, but as is the case with such a chef as Dan Timm, to an even greater degree in the one who prepares it.


---
Boiled Tenderloin Tips -- Southern Style

Cut tail end of tenderloin into pieces 1-inch square, season and boil gently in enough water to cover. Boil 1 head cabbage, 6 carrots, 4 medium-sized onions, 2 green peppers and 6 potatoes. Quarter all vegetables and serve hot en casserole.

Meat Loaf

1 lb. chopped round steak
¼ cupful bread crumbs
1 cupful tomatoes
2 tablespoonfuls butter
1 green pepper, chopped
½ cupful hot water

Season and bake an hour.

Veal Loaf

2 lbs. chopped veal
½ cupful milk
2 eggs
4 ground crackers
Salt and pepper
Piece of butter
Little minced onion

Baste with buttered water.

Hot Roast Beef Sandwich

We serve only prime rib of beef, a generously thick slice between two layers of bread, 6 inches long, covered with rich Espagnole sauce. This makes a most appetizing and satisfying meal.