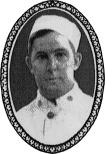 Leo Atchison

With Leo Atchison it is in the blood. His father --a famous chef before him --has imparted much of skill and savoir faire. The son is daily expressing these gifts in terms of delectable meals.


---
Chicken Pie -- Great Northern Style

Cover 3 large fat hens with cold water, add 1 sliced onion, bunch of parsley and sprig of sage. Boil over slow fire until meat is about ready to fall from bones, separate meat from bones, cut up in fairly large pieces. Reduce stock by approximately one-third, then allow to cool off, skim fat off top and mix with 4 heaping teaspoonfuls of flour, and 2 tablespoonfuls of butter, this to be used as a binder, then add to the stock, while cold, yolks of 3 eggs well beaten, with half cup rich cream. Season to taste, then bring to a hot heat again, stirring continually, but do not boil, add the binder and strain thoroughly.

Fill chicken pie dish with layers of chicken, cold boiled potato, duchess shape, sprinkle over all 2 tablespoonfuls of diced, crisp bacon, rendered out in frying pan, with some of the rendering.

Fill dish with roux, described above, and cover all with top crust of pie dough, rolled moderately thick. Bake in a hot, quick oven.

Apple Pie
Fine quality apples should not be boiled before making your pie-- coarse apples should. Line pie plate with pie paste rolled thin, slice good apples. Use quarter-pound sugar to every 2 apples, juice of 1 lemon sprinkled over apples, and a slight dusting with powdered cinnamon. Wet edges and cover with paste rolled thin. Make cuts in top to allow steam to escape while baking and cook in a moderate oven on bottom of oven first, and finish on the shelf of oven.