Stevens Pass 2010
by Lindsay Korst
gngoat@gngoat.org
Saturday, June 12, 2010

2010 was a very wet spring in the Pacific Northwest with rain or clouds practically every day through May and the early part of June. Thus, I looked at the Wednesday morning weather report for the weekend as "sunny and 75 degrees" with some trepidation. In a remarkable display of accurate forecasting, Saturday dawned with blue skies and sunshine! Time to go train spotting.

Up at 0430 and off to Monroe for gas, breakfast and vittles for later on. Signals all dark eastward. I trundled up US 2 towards the mountains in the fog. First stop was Goldbar where the eastbound signal was "yellow over red". Hmmm...eastbound holding main? The scanner was silent.






In the yard at Goldbar was a tied-up rail train, with the accompanying ballast cars and welding paraphernalia. Also present was a warbonnet BNSF 4700 Dash 9-44CW towing what appeared to be an F unit and a rotary snowplow. Couldn't quite make out the number of the F or the plow, but the rotary had a very spiffy set of green flags atop the cab (section following?).

Just past the 1751 bridge, we broke out into the sun. Mount Index was absolutely stunning and snow-covered. Dark signals at Baring siding. I took the leisurely turn off at Money Creek for the drive to Sky. Skykomish is really a wreck with the depot far up the track, buildings every which way, and the oil removal in full swing. Crossing the tracks, however, green signal. Westbound!






My camera was going crazy with the contrasty, low-light-into-the-sun conditions. The first train of the day had quite the assortment of power with the first car being an ex-GN BSB wood chipper.




Amtrak was due (according to "Hi, I'm Julie, let's get started") so I set up at the Bonneville Power crossing. Meh, so-so, if you're into contrast. I followed #7 down the hill. Low and behold, there was an eastbound to follow with a spotless BNSF 7239 "swoosh" on the point.




Next stop was up Foss Road to try out a new angle on the trestle.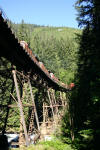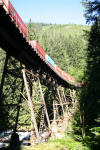 Back up the hill I went, deciding to try out Deception Creek for my next shot as this train was really struggling uphill...looked to only be going about 10 or 15 mph.





Yeech... Sorry, really bad picture. At this point, I took my camera off "speed" and just set it on Program. Next stop, East Portal of Cascade Tunnel.






A little better, but my Rebel is just not handling sunshine this morning. Perhaps the more even light of Eastern WA will do the trick.





That's better. Coulter Creek crossing, just east of Merritt and 7239 is finally starting to unwind. Usually those mountains are in clouds so this was a pleasant surprise.





Always wanted to get a picture here. BNSF 7239 and mates roar across US 2 towards Winton tunnel.






Of course, there's only one place to photograph a freshly painted unit on the point, and that's at Monitor curve. There is a huge "parking lot" here where one usually sets up that is completely filled with a 20 foot high pile of pea gravel. I'm sort of at the cliff's edge getting this picture.

On through Wenatchee, I can hear the train talking about his crew change at the engine terminal. I know they will be out of town shortly. I cross the Columbia and can see a rather deserted Appleyard across the river. I head for Rock Island Dam and set up.

I'm standing there in the sun enjoying the river view. Soon after leaving Wenatchee, 7239 reports his engine is not loading in power and that he'll "never make the hill" (up Lynch Coulee, Trinidad horseshoe and on to Quincy). I can see the train roll to a stop in the distance. He calls the Mechanical Department in "Fo' worth", who walks him through resetting the computer on the locomotive. After several tries (and 90 minutes or so), he's got the unit back online and working in power. He starts up, passes Rock Island Dam and below me onto Columbia Siding.








Notice in that last picture, BNSF 7239 is overtaking a double stack train in the siding. It appears to have one unit either used as distributed power, or most of the power cut off and ran to Wenatch. Not sure which. The train was still there parked when I came home.

I roar up SR 28 and decide to forsake the "sand pit shot" (double S curves) and set up on Trinidad horseshoe. Normally this time of day (1 pm or so), it is blazing hot up here, but it is quite pleasant today (what with all the rain they've been having), so I park the Tacoma and hike up on the hillside. The pictures turned out very nicely, even in this up and down light.










One more thing...Trinidad horseshoe now finally has a "No Trespassing" sign, but the local kids have done a fine job of pelting it with dirt clods and peppering it with bullet holes. So it has that "rustic" look.





I make my way back down the hill and just as I'm turning off the access road, here comes an eastbound Z literally on the stack train's yellow block. He is going very slow, so I decide to try a shot of him just before he enters Trinidad tunnel.







Nice clouds, eh? Although the faded paint on the second unit is hideous. It's a Z all right, going noticeably slower than usual with his collection of J.B. Hunt and Schneider boxes.

Next mission is to visit Quincy and see if I can pick up a westbound to follow home. New crops on both side of SR 28 including "concord grapes, apples and blueberries", according to little, blue signs roadside. There's a big street fair going on in town off the main drag, but not much in the way of train activity. The scanner is silent.

Back to Wenatchee, stopping at Rock Island Shell for some gasoline. As I approach East Wenatchee, the scanner crackles, "BNSF Detector Milepost 1607.9...." (Winchester) Sweet! A Westbound to follow home. Hmmm...maybe its a fast Z that will get me over the pass quickly. Mileposts 1622.2, 1633.6 and 1638.1 all sound off. He's getting close. I head to Appleyard and set up near the cool GN block signals. I wait. I wait some more. Where the hell is he? It's getting close to 4pm and the light in the mountains will be going down.





Not a Z. It's a grainer who has lined himself into the yard and slowly rolling along. Sigh. Nothing to follow. I decide to punch home.

I can't leave this missive with a picture of that horribly-weathered Heritage II paint job. So here's something I've never seen before on Trinidad -- flowers. Desert bloom - just add water.






From Wenatchee, it's a quick 2 hour, 34 minute drive home. Saw or heard only one train. It was at "Spindly Bridge" near Zeke's Drive In east of Gold Bar. An eastbound grainer passed right overhead as I flew underneath at 60 per. Too fast for a grab shot, but a kick memory, nonetheless.

As always, I had a great time! Coming up next is a September 2010 visit of a lifetime to Glacier National Park with the GNRHS.

THE END