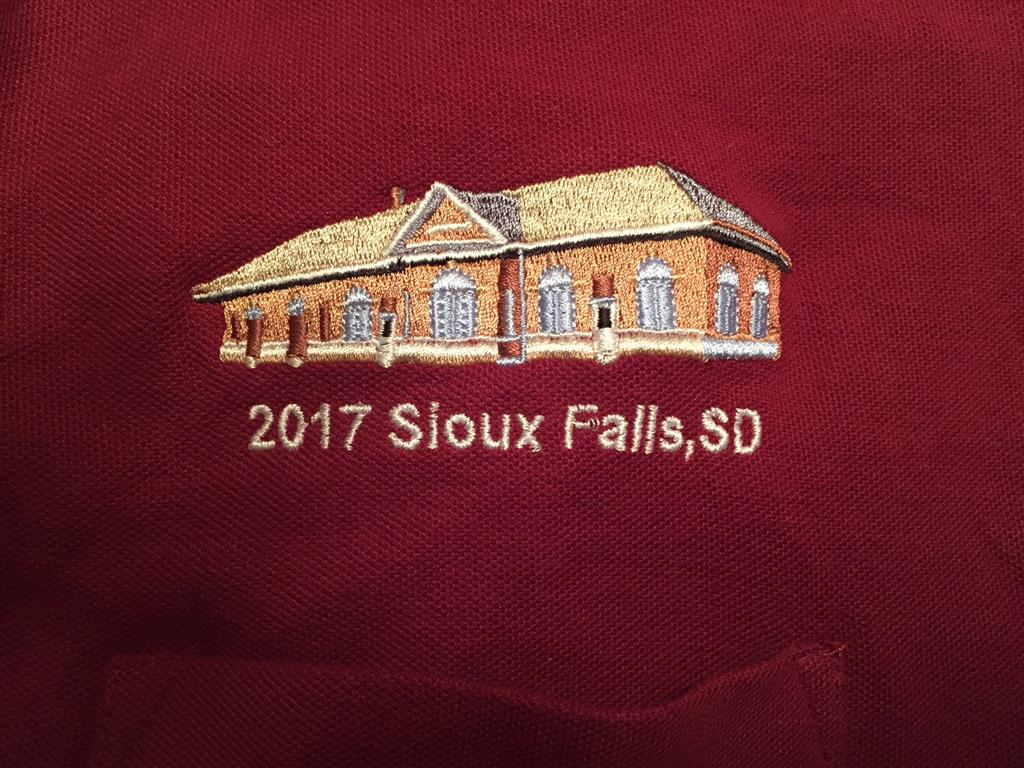 2017 Sioux Falls
GNRHS Convention
by Lindsay Korst
gngoat@gngoat.org

Welcome to the GNRHS convention! Following is my write up of the good times and fascinating things seen at the Sioux Falls convention of 2017.

Saturday, September 16th

Bus Tour to Prairie Village near Madison, SD.
Steam Engine train rides!

Prairie Village (PV) is located west of Madison, South Dakota and about an hour bus ride from our convention hotel. To save the Society the cost of a second bus, yours truly was one of the "designated drivers" carrying three others to PV. We rolled up a little after 10am and were given an introductory talk by one of the volunteers.




Finding out what we're going to see today.

Actually, as we arrived, PV had their steam locomotive on their line paralleling the highway with much steam and whistling to greet us. Pretty impressive! Unfortunately, yours truly was driving, so I couldn't get a grab shot.

PV is normally closed this time of year, but the staff graciously opened just for our group.



Unloading from the bus, getting our red "wrist bands", and heading over to the steam train.

It was a short walk over to the Wentworth depot. This was a "combination" depot serving both the Great Northern Railway and the Milwaukee Road. Prairie Village, Herman, & Milwaukee Railroad #29 is a 1944 Lima-built 0-6-0 switcher acquired by the PV in 1976.




Wentworth, SD depot and PVH&M #29 stand ready to receive visitors. The ride begins on the steepest part of the line -- a 3% grade and on a sharp curve, to boot. The engine has to really work hard to get up the grade.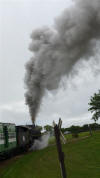 #29 slips, slides and blasts its way up "the hill" out of Wentworth depot.




Bob Showers and Pete Calderon enjoy the ride in the caboose. Tyrone Johnsen has the best seat in the house up in the cupola.

PV's loop of track is about 1.7 miles long and they gave us two circuits for a little over 3 miles of running. After the ride, a few of us walked over to the "hill" for a few shots of #29 blasting its way uphill.





Pouring on the coal, (yep, it's a hand-fired coal burner), #29 puts on a real show lifting its passengers over the hump. That's Lake Herman in the background.




Going away view of PVH&M #29 and train. That's a former Union Pacific caboose carrying the markers.





Roundhouse action! Inside we see a CNW passenger car, a narrow gauge 0-4-0 from Germany (1927) and a BLH (Baldwin-Lima-Hamilton) #4002 ex-US Army switcher.

The CNW baggage-coach car is extremely oochie. Built in 1909, it is numbered #1873 and labeled, "State Fair Special". It was donated to the South Dakota State Fair in 1961 and acquired by PVH&M in 1993.






Another view of #29 with train and a couple of the "speeders" running on the loop of track.





Lunch time. A catered supper was provided in the dining hall.






After the feast, we headed down to the depot to see #29 take on water.




Time for one more train ride. This time I got pictures of the picture-takers as well as some views from the cupola.





Classic view of crew in the cab. Time to put the engine to bed. As the conductor lines #29 into the roundhouse, we get one last look at their 0-6-0. Thank you Prairie Village!

The big bus loaded up and headed back to our hotel. But since I have a car --- and 3 willing railfans in tow, why not make a few detours on the way back?




Here we see the former GN depot from Garretson, SD moved off line and on private property near the entrance to Palisades State Park.





Next up is the heavily-modified ex-GN depot at Hills, Minnesota. You can still see the bay windows. The depot and its addition have been turned into a nice little bar and cafe with what we think is the old depot sign.




Our final stop is the GN Sioux Falls depot which is now used by BNSF. This whole area may change as the city of S.F. has purchased the land for re-development. Get your pictures of this building, just in case.


Sunday, September 17th


I am up bright and early today for the GNRHS Board Meeting which starts at 8am. The meeting is open to the membership and we had pretty decent attendance considering the early hour.





Getting down to business. The entire Board (excluding your intrepid photographer). A good crowd was on hand to witness the proceedings.

Directly after the Board Meeting, the Rail Fair swap meet was opened to the membership.



Where to hang the official banner? (that's Jerry Barsness)






Flying the GNRHS flag. You just CANNOT have enough of Bob Kelly's blueprints. Cordell Newby has an impressive pile of hardware for sale. Loren Charnholm spreads out the GN treasure.





Do you have a GN RDC-3 in a size 38? Russell Wilson fan (Go Hawks!) Jan Tanner, monitors the Seahawks game from her hand-held smartphone. Ben Ringnalda wonders if he's already GOT this particular GN brochure. Circle the wagons! --- An impressive collection of HO box car kits look on as John Langlot prepares to autograph a copy of "The Rusty Dusty" book.



Rocky sez, "Hallooooo"!

In the same room as the Rail Fare was the Modeling Contest. Here we see some of our member's handiwork.





Moo! A compact model of a stock yard. Next door is this nifty model of a coal yard. I'm not sure, but I believe this is a model of the Wentworth SD depot we saw on Saturday.






An NW-3 leads a heavyweight train of cars. A model of a passenger train that would have operated on the Stevens Pass switchbacks -- with an engine at each end. Spiffy little double-door boxcar GN 40294.

After the conclusion of Rail Fare and dinner, we began the evening's festivities with the GNRHS Business Meeting.




President Don McGlothlin and Board Member Scott Tanner bring the membership up to date on GNRHS doings.




A good turnout for the first big meeting of the convention. Notice the enthusiastic contingent in the back. Hi, guys!






Father Dale Peterka, Marilyn Thomas and John Thomas were presented lifetime memberships in the GNRHS for their extensive service to the Society.




Immediately following the Business Meeting, Stu Holmquist talked about the GNRHS Archives Updates.






After Stu's talk, Dennis Hilleren (retired from BNSF and who began his career with Great Northern at Willmar, MN in 1970) and Board Member Gary Nelson, displayed some GN Willmar Division dispatcher train sheets for us to examine.






The final talk of the evening was Norm Priebe's "GN's Willmar to Sioux City Line". Norm also spoke a little about the restoration of GN 1355, an H-5 class 4-6-2 which we would be touring on Tuesday.


Monday, September 18th


A full day of speakers today and the famous evening tour of local area model railroads! Let's get started...





Bob Bye and Rick Mills lead off with "Early Railroads of South Dakota and GN Development in the State".




Next up, Ken Middleton talks about "The Watertown and Sioux Falls Railroad Company".





Father Dale Peterka gave his talk on "Chief Iron Horse, the history of Sioux City's Great Northern H-5 Pacific".





Faces in the crowd.

After the lunch break, George Fischer presented, "How Jim Hill Conquered the Cascades with L-1 Locomotives".





Tyrone Johnsen introduces Mr. Fischer as the audience listens in.






Jeff Otto bats cleanup with "The Missabe Northern Railway - Designing for Realistic Operation". Our youngest convention attendee is held spellbound by Jeff's talk (he obviously has the digital version).

Model Railroad Layout Tour
After the dinner break, we piled into the buses to tour three separate local layouts. Each bus spent about 30 minutes at a layout before rotating to the next location.





Our first stop was at the Sioux Valley Model Engineers Society (SVMES) at the fairgrounds. Also at the site is the ex-GN depot moved from Rutland, SD. There was just enough setting sun for some grab shots of the station.






SVMES had a variety of trains running for us on their expansive layout. Plans are to enlarge the building for even more modeling nirvana!






At one end of the layout is a spectacular rendition of both Mount Rushmore and the Crazy Horse monument. When you press a button, the lights dim, the four presidents glow as if spotlighted, and a fireworks display, complete with sound effects adds to the effect. A very cool modeling job!





Our second stop was at a private home (I believe the gentleman's name was Larry). In his garage, there were two layout sectionals (built by the Dakota Southeastern Division of NMRA) for us to examine.






This house had three layouts in HO, N and Z scales. The most spectacular was the modular N scale layout in one side of the basement featuring an impressive series of trestles as you first enter. I like that guy's T-shirt!




On the other side of the basement, is a modular HO layout.





Finally upstairs in the kitchen is the start of a Z scale layout. This fella has a very understanding wife!






Our third stop was at the Dakota Central (DC) also located in a private home. The DC features a Sioux quartzite mine, a long walk-around mainline and some spectacular scenery of the type I've never seen before in a model railroad. It reminds me of the views and geography around the Black Hills and Custer State Park in western South Dakota.






Additional views of the Dakota Central.


Tuesday, September 19th.

Today's big event is a visit to THE Railroad Museum in Sioux City, Iowa. The museum are caretakers of the beautifully-restored Great Northern #1355 H-5 class 4-6-2 steam locomotive. It is a little over an hour's drive from Sioux Falls to the museum and once again I am chasing the buses with Ben Ringnalda riding shotgun -- for reasons that will become clear later on.






Off the buses we tumble. At the entrance, we are greeted by our tour guides and divided up into smaller, more-manageable groups.








And here's the star of the show! GN #1355, "Old Chief Ironhorse" (as the locals call it) positively gleams in the dim light of the roundhouse.

I'll translate those symbols under the cab 1355 with the help of my trusty R&LHS Railroad History #143:

H5 - class of locomotive. S - Superheated steam. 73 - driver height in inches. 176 - boiler pressure psi. 23 1/2 / 30 - cylinder dimensions in inches. 85 & 4 - not sure. Weight on drivers (85,000 or 85,400 lbs) perhaps?




Tender logo fireman's side and engineer's side.






A tour of the cab. Ben and Lindsay take turns at the throttle. Checking out the turntable.






Chow time! Lunch was catered in one of the restored buildings on the property. Afterwards a talk about....World War I railroads (book available for sale in the lunch room).






Towards the end of the talk, Ben and I snuck out and visited the operating layout in a nearby building.






It took some coaxing (thanks, Mary!!!), but the docents finally agreed to tow GN 1355 out of the roundhouse and onto the sunshine-drenched turntable. Spin that puppy!







Engineer's side view, photo line!, another view of 1355 from the roundhouse.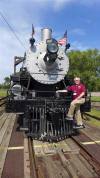 Last, but not least, a photo of the entire group posing on the turntable with GN #1355. Photo taken by GNRHS member Michael White of Ferryville, Wisconsin with my camera. As a "Thank You", I took Michael's picture alone with the 4-6-2 and sent him a copy (shown above also).

With the conclusion of THE Railroad Museum tour, the buses headed back north for Sioux Falls. Yours truly, Ben and Don McGlothlin headed west towards Yankton, South Dakota to see Steve Neumann's GN X-7 caboose.

These "slant cupola" cabooses (first all-steel GN cabeese) were built in 1958/1959 at GN's St. Cloud shops and are my absolute favorite Great Northern caboose. I think Ben and Don like 'em too....





Four views of the exterior of BN 10367, nee-GN X-7 "somewhere west of Yankton". There is a picture of this caboose in BN dress at Essex, MT in Bob Del Grosso's BN caboose book, page 29.






Interior views. Structurally, the X-7 is in very good shape with most "hardware" still intact.





Thanks for allowing us on the property to check out X-7, Steve!

As the sun slowly set, we headed to Sioux Falls for a quick bite of dinner and JUST made it back in time to see Earl Currie's evening presentation.






Jeff Otto wires Earl up for sound, our evening's topic, a good crowd in attendance.


Wednesday, September 20th


Another full day of presentations culminating in the traditional evening banquet.

First up is Mark Meyer with his talk on, "Managing Locomotive Power on BNSF - How the profiles of GN, MILW, & NP routes affect Locomotive Distribution in Present Day".






Mark at the podium, BNSF Operating Division Alignment, listening in, talking with Mark afterwards.

Second at bat is Bob Kelly to talk about GN System Condensed Profiles. Each presentation attendee would receive a beta-DVD containing a complete set of GN profiles for their perusal and comments. Pretty cool!





"The grade was about this high...", Can you spot yourself in the audience?





Our final morning speaker is Rick Mills to talk about "Rails in the Sioux Empire - A Look at Sioux Falls Railroading".




After the lunch break, we heard from Roger Brewster about his "World as a GN Switchman and Brakeman out of Sioux Falls".

In the afternoon, Ben Ringnalda and I headed out to do a little railfanning around Sioux Falls. First stop was the 10th Avenue Bridge which provided an excellent view of the former GN yard, depot and engine house.






BNSF 2800, a former CB&Q GP30, now classed as a GP39M. Former Great Northern engine house. Sioux Falls depot. Overall view of the yard and buildings.




Driving around, we spotted this BNSF snow dozer tucked between two buildings (BNSF 940003 is a former GN snow dozer, heavily modernized). Also nearby is what looks to be some sort of ex-GN freight depot?




A quick stop at "The Falls" for a picture of the railroad bridge -- little did we know that a BNSF local would roll across about 15 minutes later after we were "out of position". :(





Some nice, clean, four-axle power (all EMD GP39-3's) trundles into Sioux Falls from points north.

The Banquet!
Time to head back to the convention hotel to have dinner and close out the convention!






The convention banner. Visiting during "happy hour". Luke and Steve Neumann. Finally, your trusty GNRHS convention photographer posts a picture of himself and tablemates at the banquet. ;p At our table (roughly from left to right), was George Fischer and his wife, Jan and Scott Tanner, Ben Ringnalda, Lindsay Korst, Steve and Luke Neumann.






Tom Carr, Neva and Don Pavia are on the local committee putting on next year's September 2018 Bellingham, WA convention. Mary McGlothlin makes some announcements and introduces our banquet speaker, Mark Gjevre of BNSF. GNRHS tech support guru, Luke Neumann, gives the laptop a quick reboot as Mr. Gjevre, Jeff Otto and Bob Kelly look on. Love that Omaha Orange on the BNSF PowerPoint!





Mark Gjevre talks about the upcoming Sioux Falls Yard Relocation project. A spotless BNSF #8065. The fisheye-lens Glam Shot!




Mary and Don McGlothlin present awards to Kevin McCready and GN vet Dr. D. Greer Nielsen for their service to GNRHS. Bob Showers helped with the big raffle prize drawings (and selling the tickets). Buying those raffle tickets helps fund the GNRHS and the odds of winning are way better than any State-sponsored lottery!






An eclectic assortment of raffle prizes offered this year.

With the distribution of the prizes, the 2017 GNRHS convention came to a close. A few of us adjourned downstairs to the hotel lounge for some adult beverages to cap off the evening.




Mary and Don take a well-earned break after putting on the Sioux Falls convention. It is difficult to host a party for 140 people and enjoy it yourselves. Mary and Don went above and far beyond the call of duty. Many, many heartfelt thanks to them for making 2017 in Sioux Falls a great success for GNRHS!

Hope to see y'all in Bellingham next year!

THE END