Stevens Pass 2019
"Train Hype with Scott & Lindsay along the old Great Northern"
written by Lindsay Korst
gngoat@gngoat.org

Saturday, June 29th

Scott Tanner and I set off at oh-dark-thirty for yet another fun-filled railfan explore. The signals are dark at Gold Bar but our scanner crackles, "BNSF Detector milepost 1740.5, no defects, total axles seven zero, detector out". Huh? Just 70 axles?

Signals are still dark at Baring (where the detector had sounded off), but just past the Money Creek tunnel, Scott spots a short train rolling eastbound through the trees.

With only seconds to spare, we pull into Skykomish for a grab shot at the crossing.






Hmmm...the lead unit BNSF 7705 is coated with graffiti on it's flanks. Not a very photogenic beast, but it will have to do as it is headed our way.







Our next stop is the west portal of Cascade Tunnel. We snap a few shots of the new GN-logo-enhanced Cascade Tunnel sign and look down the tracks. Eventually 7705 shows up, but stops at the east switch of Scenic siding on the main.

At the same time, we are pondering on where to photograph a two-hour late westbound Empire Builder. Scott had shown me a photo of Amtrak's Glacier View (an ex-GN Great Dome) taken by a railfan in Wisconsin on this morning's #7. We decide to press on for Gaynor Trestle to catch the Builder there.





As we trundle down the access road, we wave at a couple railfans camped a ways up from the tracks. With a dome car on the Builder, a nice side-angle shot of the trestle seems appropriate. We bait our hooks and wait. Along the old right of way, there are still reminders of GN's electrification -- including this metal catenary post bolted into the rock.







Much to our surprise, the first train through is the Ghetto GE leading its short train downhill in dynamic braking.






Finally...FINALLY...Amtrak's #7 arrives on the scene with P42 #818 leading the way. Alas, no dome car graces the rear of the Builder. It must have been cut off somewhere along the way or maybe even sent down the Columbia on the Portland section #27. Damn. Oh well, you can't beat Gaynor trestle for time spent trackside.

As we head back up to US2, we stop to chat up the two railfans, John and I'm-sorry-I-don't-remember-your-brother's-name! Apologies. They tell us an eastbound empty coal train had gone through previously.

The eastbound Q train we had been following is long gone so we head directly to Wenatchee. Not much happening in Appleyard, so on our way back to the yard office, we stop at Mission Street Park for a photo or two of the GN steam locomotive on display.






In a nice touch to commemorate the upcoming July 4th celebration. Wenatchee has placed a U.S. flag along the boiler of GN # 1147.





We had been hearing on the radio that our Q train was still in town and getting a new lead locomotive (5151). Here we see the conductor walking the train and releasing the hand brakes so they can depart. Scott and I decide to head for Trinidad tunnel for our next shot of this eastbound.






Coming up on the old Rock Island steel mill, we see a headlight. At the crossing, we jump out just in time to capture a westbound merchandise train.

On to Lynch Coulee. Up those dusty roads we climb in 4x4 to reach Tunnel 11.1 built during the 1940 line change.






Scott unloads the gear (beach chairs and munchies) and I indulge in a selfie (warning -- may frighten small children).











At last, the 5151 arrives toting containers and trailers past our vantage point.

Things get quiet with nothing on the scanner east or west. After about 90 minutes, we pull up stakes and head downhill for a different perspective. Our timing proves propitious as we spy a train stopped at Trinidad siding. This turns out to be the eastbound empty coal train first heard of at Gaynor.

It can only mean one thing. The coal train is waiting for some sort of westbound.










Sure enough, as we set up shop at an overhead bridge, we can see a Z train with 6 units slowly descending the hill. Moments later, BNSF # 8166 leads the hot train downhill. As the units whine past, we give chase, stopping for a grab shot of the coal train conductor giving the Z a roll by.





The Z is really moving and we barely catch him as it leaves Columbia River siding. The engineer remembers us from the bridge and gives us a nice serenade on his Nathans.






Back onto Highway 28, we once again catch the train just east of Rock Island. Scott and I find ourselves following this aptly-named boat. Maybe he's a closet railfan? ;p






We're able to reach the yard office where crews change. The friendly conductor gives us a big wave from the steps of 8166. Nice fellow!








Scott and I set up for pictures of the Z as it leaves Wenatchee with the Cascadian fruit storage warehouse in the foreground. The trailing unit is a very nice Santa Fe war bonnet # 724 with BNSF on its' silver flanks.






There's plenty of good afternoon light so we get one more view of the westbound Z at Dryden, Washington where it crosses the Wenatchee River.

It's been a long day, so we check into our respective rooms at the La Quinta Inn and head for supper at the Coast Hotel.





As we sample some wonderful Manhattan's at the Rivertop Bar & Grill, an eastbound double stack rolls to a stop at the yard office below.








Mmmmm...that was a great prime rib. Time for one last evening shot of yet another westbound double stack rolling past the fruit warehouse in the low light. Someone scrubbed all the black lettering and stripes off the nose of the unit!


Sunday, June 30th


Another beautiful day is dawning and I'm out the door to catch #7 down at the depot.









Just as the sun peeks over the horizon (POW!), a tardy Empire Builder arrives in Wenatchee. With a green signal beckoning westward, the replacement engineer chats it up with the train staff.





Look! It's the Skookum Indian! Still going strong after all these years atop the local Office Depot. Those moving (and occasionally winking) eyes are just as creepy as ever!








I tried a new angle for my shot of the Empire Builder departing Wenatchee. I'm standing on the "Riverwalk Crossing" pedestrian bridge just a block or two south of the Coast Hotel. I texted #7's imminent arrival to Scott, who had walked from the hotel to Olds Junction for a grab shot.

After a hearty breakfast and checking out, we kept hearing on the radio about this 4452 which was to be "taken to Merritt". Other than 4452, all the trains mentioned or seen today seemed to be headed eastbound.
Indeed, we see an eastbound oil train rumble through Olds Jct. as we leave town. Since 4452 was headed our way home, Scott and I drove the short distance out of Wenatch to the Sleepy Hollow road crossing to lie in wait.

We keep hearing more chatter about 4452. It needs to be set up for PTC, but does it need to be reconfigured? Which is the point of origin -- doesn't matter if it didn't originate here? Well, it's a moot point because the computer at the PTC Desk crashed and was down for a good 20 minutes. Who knew BNSF has a PTC Desk completely separate from the dispatcher? So we're sitting here at the crossing twiddling out thumbs.

Time passes. We've been at this crossing for a good 45 minutes and nothing further heard on the radio. The decision is made to start slowly heading home, maybe picking up an imaginary eastbound to photograph. We clamber into my Tacoma and cross the tracks. Headlight.






Jump out, race back to our previously-selected spots and.....it's just ONE engine, BNSF # 4452.

This is as boring as a table train. With nothing better to do, we follow this little fella west.

We head towards the classic Wenatchee River bridge location near Plain, WA. At Leavenworth siding, there is a coal train in the pass -- BUT which way is he going? It's a long drive around to get to the spot. We unload the chairs & snacks and head for the river banks. As we do, the signal lights up to flashing yellow. TRAIN!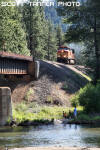 Wouldn't ya know, it's the nemesis 4452 again, scooting along on its way to Merritt. Okay, I have enough pictures of this blasted engine -- any more is just wasting pixels....

Not wanting to give up so easily, Scott and I decide to wait it out and see if anything else comes along. This is such a nice spot, it's relaxing just to sit here and enjoy the river burbling by. Well, lucky us, 45 minutes later, we hear a rumble and a horn......






Yeeeeah! It's an eastbound coal train rolling merrily across the Wenatchee River complete with EMD distributed power on the rear.

OK, time to head for Merritt and see what all the fuss is about. Just as we roll up, another coal train (this is the third coaler we've seen this morning) comes blasting through town. I head to Merritt's one road crossing just as the hoppers are rolling by.







The DP on the rear is BNSF 8409, an EMD SD70ACe. Note how there is a double stack train in the siding that has "cut the crossing". As 8409 pushes east for our final train shot of the day, I take a picture of Scott and include the photo Scott was taking.

From Merritt, we punched straight home, as we both had errands to do that afternoon. Indeed, we saw no further trains all the way back, so no harm done. Many thanks to Scott for generously sharing his photos (they are labeled as his) to help interpret our trainspotting experience.

As usual -- a great time was had by all!





THE END


EPILOGUE

Driving to work Monday morning on I-5, Scott was passing the south end of Boeing Field and what did he see parked with all the road power but........ #4452 !! AUGH!!!, Do not torment me, wicked nemesis! It must have been added to that stack train we saw at Merritt, even though we never did see 4452 there.