Lindsay and Baolu
2013 August Northern California trip
Our 20th Anniversary (August 7th)
gngoat@gngoat.org
Standard Disclaimer: Nope, no GN stuff here. Just another trip report. Enjoy!
Saturday, August 3rd

We are setting off this morning for a six day trip to Northern California. The taxi is early so we have plenty of time to kill at Sea-Tac before our 9:30am flight to Sacramento. After a rather so-so breakfast (soggy scrambled eggs, blech!) and a Starbucks and oatmeal for Baolu, we are at the N7 gate where they are boarding the plane ahead of ours...to Lihue in Hawaii. The gate agent is repeatedly paging "Danielle Sandoval" (who never did show up) and we seriously consider going to Kauai.

BUT...since reservations have been made and deposits paid, we set off for the Golden State. It is an uneventful 1 1/2 hour flight to California's capitol city.

Sacramento has a beautiful airport and there are ads everywhere boasting about their on-site cuisine. Time enough for that later as we are off for our first stop in our rented Maxima to.....In-N-Out burgers in Woodland, CA!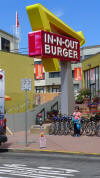 Baolu and I have heard so much about this chain, we wanted to try it for ourselves. We were both rather hungry, but In-N-Out exceeded all expectations. Nicely presented were my "Double-Double" and Baolu's Cheeseburger with fries. Delicious! I ordered grilled onions with mine and the burger was outstanding. Some sort of smoky sauce they used with fresh, crunchy lettuce and tomato. The fries were a bit bland, but a pinch of salt pepped them up nicely. Two thumbs up from the both of us. Will have to try this place again.






Second stop is the Jelly Belly factory in Fairfield. There was no production tour the day we were there, but they've got a great gift shop. I pick up some samples for the folks back at the office.

Traffic is quite heavy on the way to our resort/spa destination in Sonoma. Luckily, most of the traffic peels off to the Napa Valley. We are bound for the next valley over at MacArthur Place - a very posh destination.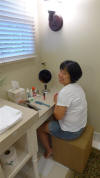 We are given a very nice, high-ceilinged room with an enormous bathroom. Baolu is tickled pink over the vanity table with the magnified shaving mirror.

We take a quick mid-afternoon drive around Sonoma to get the lay of the land. The town is quite manageable -- you can drive from one end to the other in 10 minutes. Very nice, quiet place with an enormous town square with enough shops to satisfy the most determined shopper. Baolu absolutely adores the place and keeps repeating that she wants to move here!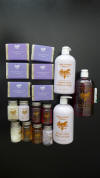 Back at the room, Baolu makes a trip to the Spa to purchase bottles of their various lotions made out of grape rinds. She picks up some of the lavender soap as well.






Happy Hour! Yes, it's time for a little wine and cheese tasting in the "library" before dinner. The wine today is from the Ram's Gate winery which is quite good. We have trouble remembering the name, so we quickly dub it, "Ramsbottom" after a famous Wallace and Gromit character.

As I head back for seconds on the crackers and salmon spread, I am aware that there is this old guy giving me the stink eye. Baolu saw the whole thing, as she was facing the food station. B said this old guy had been standing at the station shoveling crackers and cream cheese/salmon spread into his mouth as fast as he could. He turned away for a moment and I happened upon the scene. Now I was clumsily trying to apply the spread to little crackers as they slid around on my slippery glass plate. Baolu said the guy looked really ticked off, as if I was eating something off of HIS plate. B said he leaned his head closer to the spread and watched me like a hawk, as if to force me away. Finally, I got what I wanted and the old guy proceeded to shovel the food in, right from the bowl. Eeewwww.... I guess the "happy hour" was going to be the guy's only meal that night.





Next stop, on this culinary feast is the Saddles Bar. A very good Whiskey Sour for me and a Grey Goose Martini for Baolu.





It's 6pm and time for dinner on the veranda. It is quite warm, but there is a cool breeze from time to time. I have the prime rib which is excellent and B has the mussels & clams (too many mussels, not enough clams, per Baolu). Somewhere in there were some bacon-wrapped stuffed mushrooms and an iceberg lettuce salad. By 8pm, we call it quits and stumble back to the room for a date with Mr. Sandman.



Sunday, August 4th

Today is our all-day tour of Sonoma's wineries. For about $100 a head, you get a driver in an airport-shuttle-type van who takes you around to some of the area's lesser-known "boutique" wineries for tastings. You can get smashed on good wine and not have to drive. How cool is that?

Anyways, we are up early for the free continental breakfast in the bar. A nice assortment of fruits, cereal, breads, etc. We look around, hopefully, to see if we spot the cheese spread guy from last night, but he's nowhere to be found.





"Barry" our Platypus Tour driver is early and we are his first stop. We also pick up:

- 3 Party Hearty girls, who live an hour north of Sonoma, and who had done this tour several times before. All a little chubby, but they sure were entertaining!
- Two newlyweds from Kansas - she likes wine and he's a farmer she's trying to vine-dicate. Very nice folks.
- Two guys, former classmates from Canada - one a very tall guy with non-matching socks from Toronto, and an Asian guy from Alberta -- both down here for just the weekend!

As we're driving to our first stop, Barry tells us a few tidbits of wine-snobbery-trivia. Actually, some of these are from the wine stewards themselves:






- If you want another sample of a wine, you ask to "revisit" the wine...

- wine flowers self-pollinate (no bees needed). Or as Barry puts it, "A rather incestuous relationship".

- "Private Reserve" and "Limited Edition" means nothing - can mean whatever the vineyard wants it to mean.

- "Estate" means the wine must all be done on site (growing the grapes, harvesting, creating and bottling the wine).

- "Varietal" means wine is made from at least 75% of one type of grape.

- "Petite" means smaller grapes with more skin and less juice to make the wine.







Peter Cellars is the first winery we visit. (Get it?) That's Barry, our driver, in the aloha shirt.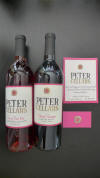 We sample 4 different wines from them and end up buying a bottle of Rose' that Baolu really liked, along with a Cabernet for me.

Next to the tasting area outside is a long sand pit with wooden balls lying in the sand. We find out this is an Italian game called Bocce Ball where you throw a small, white ball to one end of the sand pit, then try to throw the blue & red balls as close to it as possible. Mind you, we were running on Baolu's rules she made up as we went along, so the outcome was never in doubt.





As we wandered around the neat rows, Baolu snuck me a couple merlot grapes right of the vine. Very sweet!






Second stop is the Loxton Winery with Chris Loxton himself giving us SIX tastes of different wines. Chris is a very affable guy from Australia and a 4th generation wine grower (3 generations in Australia - 1 generation (Chris) in Sonoma Valley).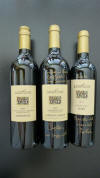 We buy 3 bottles, two of which Chris autographs for us!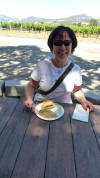 After the tasting inside, our driver Barry has a wonderful lunch set up for us outside under the shade trees. We feast on salami and cheese on a croissant & quinoa seeds which tastes a little like couscous. Quinoa is not actually a grain, but the seeds from a South American plant. Very light and tasty.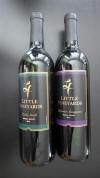 Our third stop is at the Little Vineyard. We bought 2 bottles of their darkest red.






Out front is their link to Hollywood, the F-1 Ford pickup truck from the Sanford & Son TV show






After a few drinks, Baolu is feeling pretty good! We are all back on the bus, but one of the Party Hearty girls has been lagging behind. Barry backs up the bus as if to leave and she comes running!





Barry saved the best for last. Our final stop today is at the B Wise Vineyard & Cellar Tasting Room in Kenwood, CA. This place was specifically requested by the Party Hearty girls (that's them in the following pictures). The "B" is for Brion (pronounced Brian), the owner of the winery.








We are escorted into a private room by our host (forgot his name - nice, knowledgeable fellow though) where he proceeds to pour a bit of wine in a glass, turn it sideways and rest it on a paper towel. He tells us all about how to smell and look at wine, most of which I didn't catch after previously consuming 72 "tastes" of wine or so.

I kid. I learned that depending on where you insert your beak in a glass of wine, you should smell different things! Yes, as you tip the glass towards you, the bottom should smell like pure alcohol, the middle should smell like the oak barrel and the top should be the fruity highlights of the wine. ALSO -- our host had Barry bring in a nice cheese and cracker plate to use with the wine.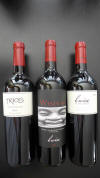 We bought 3 bottles of the less-expensive ones at B Wise. The top-of-the-line reds we tasted (we had a generous SEVEN tastes here) were something like $75 to $95 a bottle -- way too expensive for our taste.







Needless to say, after the tasting, we were all feeling pretty good. All good things must come to an end, so we headed back to Sonoma. On the way back, one of the Party Hearty girls popped open an autographed white from Loxton & passed it around. B even had some! It may have been all that wine talking, but B keeps saying, "I want to move here!" She really likes Sonoma. According to Zillow, a standard 3 bed, 2 bath house goes for a million bucks -- so I had better start buying lottery tickets NOW.

We were back at our resort by 5:30pm. It was supposed to be 4:30 when we got back, but those Party Hearty girls wont we rushed! We tipped Barry $20 for a wonderful tour of the area.

For dinner, we went to a terrific family Mexican restaurant called Plaza Tequila. This is right next to the Blue Moon Tavern and both were heavily recommended (no pun intended) by the Party Hearty girls. Always take the locals' advice. Supper for me was chicken enchiladas and bacon-wrapped shrimp (or was it shrimp-wrapped bacon?) for Baolu. Margaritas to wash it all down. A tasty end to a sumptuous tour.



Monday, August 5th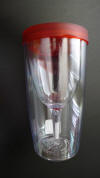 Another tasty continental breakfast to start the day right and then time to check out of the hotel. At 10:15am, I dropped Baolu off at the Sonoma town square where she found an adult Sippy cup (for sipping wine whilst laying in her backyard hammock) and some chocolates.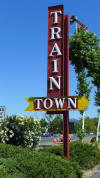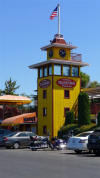 My destination was the Sonoma Train Town. I was there for the first train ride on this 1/4 scale miniature railroad. It is a wonderful setup -- a 20 minute ride behind a diesel switcher over 4 MILES of track through the woods and ponds of the park.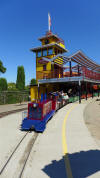 There's even a short stop at "Lakeview" where you can walk around the scale buildings and visit an evil petting zoo.






Back in the depot, I took some time to take pictures of the steam locomotives (not running today) in their roundhouse. Quite the setup.








I watched the next train leave the station, then it was time to join Baolu for our drive to San Francisco.




Along the way, we stopped at the Ramsbottom, er, Ram's Gate Winery whose vino we enjoyed so much. Picked up a couple whites to counterpoint all those reds we purchased on yesterday's tour. We now had an even dozen bottles packed in a Styrofoam-encrusted box (purchased from the ever-resourceful Barry) to carry home as checked baggage on the plane. Supposedly, this case can be dropped from the back of a pickup truck at 45 mph and not break a bottle. We'll see. It has to make its' way through those baggage handlers at the airport, which is far more treacherous.

Next stop on the way to The City is lunch at the Mill Valley, CA In-N-Out burger joint. It is 12:30pm and the place is JAM-PACKED with humanity. The line is out the door. To their credit, they are running like a well-oiled machine. Our order is promptly taken, food is forthcoming about 10 minutes later, and we actually snag a seat just as our order is called. Schweet! This time we each have a milkshake. It is OK, but a little heavy -- will have to stick with pop or water next time. The burgers and fries, however are top drawer - again. I help my fries with a little salt and it is much better. Again, 5 stars out of 5 for their burgers. In-N-Out. Joe Baolu says, "Check It Out!".

Groaning under the weight of today's lunch, we motor down 101 with a short side trip cruise of Sausalito. We get back on the 101 South and cross the GG Bridge as all the signs call it. Following my iPhone's Google Maps directions, we cruise through The Presidio, along Lombard Street, finally onto North Point Street and our hotel, the perfectly-located Tuscan Inn at Fisherman's Wharf (Best Western).

Baolu is pooped from all that eatin' and soon takes a cat nap whilst I watch an American Pickers marathon on the telly.

It is very cool, cloudy and windy on Fisherman's Wharf. Dinner tonight is at the old tourist stand-by, Bubba Gump on Pier 39. Lindsay buys himself a B.G. hoody as he wasn't planning on wearing a sweater in California in August!

We make 5:30pm reservations for our Wednesday night anniversary dinner at Scoma's. The place is PACKED, even at this early hour. Then it's back to the hotel for a little shut eye. Big travel day tomorrow!



Tuesday, August 6th

We are up at the crack of dawn and out the door by 7:15am. We drive down the 101 and the 280 towards San Jose. Breakfast is at "Stacks" in Campbell, CA. Excellent breakfast. Spinach/bacon omlet for B and "all meat" omlet for me. Best breakfast on the entire trip.

From Campbell, it is a short distance to the UPS store where we ship home the "liquids" TSA would frown upon in our carry on -- along with some other things and dirty clothes (for the TSA to sniff). It was waiting for us on the front porch when the taxi dropped us home two days later.

On to Felton, CA over the curve-wracked CA 17 we go. Our destination is the Roaring Camp and Big Trees Railroad.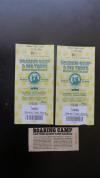 This 3 foot gauge gem is tucked away in the Redwood Forest of the Santa Cruz mountains. It is a fantastic ride up grades as steep as 9% to the top of Bear Mountain.








Our little Shay #1, the "Dixiana" blasts its way up the mountainside with a six car train full of riders. They keep mentioning the poison oak along the train tracks and on the mountainside. This keeps people from grabbing onto it as the train passes and encourages folks not to wander too far off at our Bear Mountain stop.






The line runs through some old growth Redwood trees of impressive stature - saved at the time by incredibly-forward-thinking pioneers.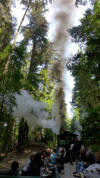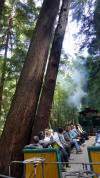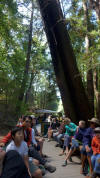 The engine's stack exhaust is literally blasting pine needles and small branches off the above redwoods, lightly showering the passengers with its flora and fauna.
We negotiate a couple switchbacks on the way up and down the mountain. They let us off at the top for a look around. There is an old trestle overhead (burned down by vandals years ago -- thus the switchbacks. The steep route down the hill is just as awe-inspiring.

Back down the mountain, there is a huge crowd waiting for us at the station for the 12:30 train. I take a few more shots, then it is off to "The Mystery Spot" of Santa Cruz.

Or so we thought. After a 1/2 mile jolt along one of the roughest, poorly-maintained roads I can remember, we reach The Mystery Spot. There is a young woman waiting for us asking "if we have a reservation?" Uh-oh. "Ah, no we don't." "Well, there's a 3 hour wait for the next tour, so if you want to give me your credit card number....."

So that's the mystery. Your credit card simply "disappears" into the woods. It was a nice idea, but no thanks. We reverse course out their pothole-riddled driveway towards the beach at Santa Cruz.






It is now about 2:30pm and we have way too much time on our hands. Up until this point, the weather had been cloudy and cool. Seaside however, the fog has rolled offshore a mile or so and it is a sunny/blue sky and 74 degrees. Perfect weather. Unfortunately, yours truly left his floppy tourist hat back at the hotel figuring the sun would NEVER come out. WRONG!!! (My face is still peeling as I type this Saturday afternoon).





Anyway, we walk the boardwalk, walk the beach and end up on the pier that goes way, WAY out into the bay. It is a good walk. We watch (and listen) to the huge, blubbery sea lions going, "ORK-ORK-ORK-ORK-ORK" like in all those cartoons you've ever watched with a seal.





The train down from Roaring Camp rolls along with the waterfront as we stand on the pier.






There are 5 or 6 seafood restaurants on the pier and with a little help from Yelp, we choose the Firefish Grill for a late lunch, early dinner. It was a very good choice. We managed to snag a waterside table. Their clam chowder is very creamy and tastes more like a bisque with wine -- best chowder on the trip. For dinner I had the Sand Dabs, a local fish served in a creamy lemon caper sauce and very good. Baolu had a calamari "steak", as it were, and this is where she discovered the Appletini.

After dinner, we had a very nice, scenic drive up the coast on Highway 1 back to San Francisco. We got as far as Half Moon Bay where the clouds and fog rolled back in again.



Wednesday, August 7th, 2013 -- Happy 20th Anniversary!







Breakfast at Starbucks fetched back to the room by yours truly and then we were off to the Mason/Powell Cable Car -- conveniently located just a block behind the hotel.






Up the hill we went to Chinatown which was, mostly, not open yet (it only being 10:30am or so) although Baolu got to visit Shanghai along the way.





Down on to Market street for a quick look at the spectacular Nordstrom's store.








Baolu wanted to ride BART! (Bay Area Rapid Transit). Actually, the overpaid BART workers were planning to strike, but Governor Jerry "Moonbeam" Brown suspended the strike for the week we were in town. Thanks, Jer!






We rode out to Daly City, then back to The Embarcadero - all on the same $6 worth of tickets! Not bad.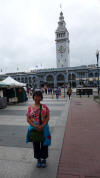 But where to have lunch? So many choices. There's Gott's lunch/burger spot that has a Cabernet we like so much. Or this place:





Just don't fancy the pig parts at the moment. Hey. How about HERE?





Let's check out The Slanted Door, a Vietnamese/Cali fusion restaurant. Written up in so many magazines according to Baolu. Loved for its food. Hated for its slow service (according to Yelp). Let's give it a try....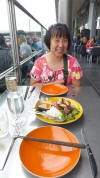 VERY good! Yes, as it got more into the lunch hour - past noon and on to 1pm, service did slow down. The place was packed inside and out, though, and we were in no hurry. All in all, a very enjoyable meal. I let Baolu pick out all the dishes.




Now. Here comes the tricky part. It is about 2 miles back to Fisherman's Wharf and the only transit available is the "F" line -- a series of vintage streetcars, restored for use. The twist is they have become a victim of their own popularity. The first one that pulls up is jammed with humanity. The driver is having trouble getting the rear doors to stay closed. He fiddles with them for a good 10 minutes before finally setting off.






Next comes a procession of streetcars, still all jammed with people. After about 3 or 4 go by, we finally catch one with room for us. Progress is slow as we are backed up behind about 4 cars. We see two white, presumably supervisor pickup trucks blasting past us at 50 mph. One of the cars must have broken down. Sure enough, as we reach Pier 39, I notice that the streetcar with door problem and been shoved off into a turn-back track and is completely empty. Finally at Fisherman's Wharf, the car empties and we get seats the rest of the way.








Next, we walk the 4 long blocks to Ghirardelli Square, snapping some cable car shots of the other line along the way.





Ah...chocolate! We pick up some wonderful Ghirardelli cocoa confections for us and the folks back home. I get me a chocolate cable car! It's been a long day, so back to the hotel for a nap.






It's 5:30pm and time for our 20th Anniversary dinner. Scoma's was packed, as usual, so they had us sit in the bar whilst we waited for a window seat. It was worth the wait. Our waiter, an older guy, was very attentive and the food, of course, was excellent.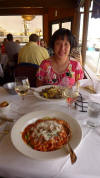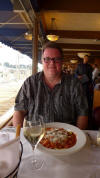 As you can see, they gave me a bib -- which was fortunate as my pasta had quite the whiplash factor. Surprise! The restaurant even comped us a little dessert. Happy Anniversary!



Thursday, August 8th

Time to head home. We are out the door at 7:15am. Lindsay had a bit of a problem getting on the Bay Bridge. I followed the signs to Express Lanes, only to discover that requires 3 people! Circled around downtown a bit more until we found the regular entrance to the 80 Eastbound. Finally on the Bay Bridge and....it looks like they are building another bridge right alongside it? Hmm...will have to take a look at that. We reach the Oakland side and proceed north and east. Coming up on Carquinez Strait bridge, it says $2.50 for fast pass or cash. The tool booth operator takes my $5, hands me a receipt and when I pause for change, gives me the umpire, "Yerrrr OUT!" jerk of the thumb without looking up...translation: Hit the road, Jack, you're holding up traffic...we both had a good laugh about that.

After a long drive, we drop off the car at Hertz and take the shuttle to Alaska. The lady at the counter puts all sorts of fragile stickers on our wine box and, hopefully, it will be in one piece when we get to Seattle.

We have an absolutely marvelous breakfast at a place called Cafeteria 15L, which I presume is named after one of SMF's runways? (Nope. It turns out the main restaurant is on 15th street in downtown Sacramento. No matter. The food at SMF indeed lives up to the hype. Baolu has an omelet and I have a breakfast burrito both which are out of this world. Best breakfast I've ever had in an airport. Another two thumbs up.

We have a quiet flight back to Seattle (no children on board!) and there at baggage claim, upside down, is our wine box --- with all sorts of TSA tape on it! Bastards. Luckily, they didn't steal any bottles and none of them leaked so were all good. Ah...it's good to be home again. We had a great time playing tourist in California. Aloha!





THE END