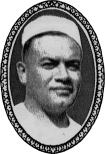 Steve Kogl

You ask Steve Kogl, "What constitutes a perfect meal?" and he will reply, "Good food cooked correctly and served tastily." This is the creed of all chefs au fait.


---
Fillet Mignon Petite

A very small tenderloin steak, broil or sauté in pan with butter, serve Maitre D'Hotel sauce, garnish with watercress and half a lemon.

Asparagus Tips au Gratin

Cut tips from fresh cooked asparagus, put in buttered dish, season with salt and pepper, cover with cream sauce, sprinkle with grated Parmesan cheese. Put more butter on top and bake brown.

Spaghetti a la Glacier Park

2 oz. bacon, chopped fine
˝ oz. garlic, chopped fine
2 oz. ham (fat), chopped fine
1 oz. green pepper, chopped fine
4 oz. onion, chopped fine

Braise all together with ham bone and 1 can of tomatoes, cook for 1 hour, strain and mix with hot spaghetti. Season to taste. Serve in casserole with Parmesan cheese and minced chicken.

Rice Italienne

Boil 1 cupful rice, add to rice when done 3 cupfuls Spanish sauce, add one-fourth pound American cheese. Bake in casserole in hot oven for 10 minutes and serve in casserole.