This unit belongs at the top. GN #400 "Hustle Muscle" was the first production SD45 built in 1966. From l to r: GN 400 on 261 steam fan trip, Carlton, MN; detail shot of "Hustle Muscle" lettering and rear view at MTM Jackson St. Roundhouse in St. Paul, MN. Photos taken by Lindsay Korst in July 2001.
Update 04/13/2002: Courtesy of Ralph Back are these splendid photos of GN #400 "Hustle Muscle" on the newly-installed turntable at MTM in St. Paul in December 2001.
Update 11/25/2006: Thanks to Jim Chinquist for these photos of the freshly-repainted GN 400 at Jackson Street Roundhouse in Saint Paul. The locomotive received its glittering paint scheme at the Wisconsin & Southern shop in Horicon, Wisconsin.

Here is a GN builder's photo of their spanking new EMD SDP40 #322 delivered to the railroad in May 1966. These 3000 horsepower passenger units went to work hauling the Empire Builder and Western Star and even taking a turn on local passenger runs at either end of the system.

GN #558, an EMD SD7 builder's photo taken at the factory. From a Vanishing Vistas postcard. Collection of Lindsay Korst.

GN X-838, a self-propelled diesel line car was used on the electrified section in the Cascades for maintenance work. From a Vanishing Vistas postcard. Collection of Lindsay Korst.

Shown here in this July 1998 photo by Lindsay Korst, GN NW-3 #181 is on display near the Whitefish, MT depot. This unit was built by EMD in March 1942 as #5406 and quickly renumbered to #181 in 1943. The unit developed 1000 HP and was sold by the GN to the Anaconda Company (their #900) in August 1965.

Former GN NW-3 switcher #179 is still in service at Morrisville, PA in this photo by Richard Jenkins.

Courtesy of Joel Weeks of Appleton, WI comes his beautiful shot of GN NW-5 #192 passing through Neenah, WI on April 10, 1999. Some background on this unit: Built by EMD in December 1946 for GN, it developed 1000 horsepower. It became BN #992, retired on 04/29/82 and eventually wound up on Iowa Southern in 09/88.

According to Dave Schauer of Duluth, MN, the above unit was bought by the Lake Superior Transportation Museum in Duluth from the Council Bluffs RR in Iowa. The unit was sent to the E&LS in Escanaba for paint, and is now back in Duluth being prepared for service on the Museum's tourist line. The operational NW-5 will handle passenger trains along the shores of Lake Superior.
GN 192 Update: I was finally able to visit the Lake Superior Transportation Museum and see this unit for myself. A beautiful restoration job, right down to the Roman lettering on the side. Photos taken by Lindsay Korst in July 2001.

Here poses Lake Superior Terminal and Transfer Rwy. Co NW2 #100 painted up in the original GN orange and green paint scheme. This was an 18 mile switching line in Superior, WI which was once partly owned by the Great Northern, hence the livery. Photo taken by Model Railroader Magazine, Senior Editor Carl Swanson in Dubuque, IA on July 13, 1991.

Photo by: Gayle Christen
Illustration: ALCO-GE FA-2 No. 279
Location: Spokane, Washington
Photo Date: October 9, 1951

Illustration: The Empire Builder, westbound
Location: Glacier National Park in Montana
Photo Date: 1967
Photo by: Burlington Northern

This official portrait, photographed in the early morning, shows the eastbound Empire Builder drifting downgrade from Marias Pass at Bison, MT with Glacier National Park in the background. Photo taken in 1957 by Great Northern Railway.

From Joe Moltz of Sykesville, MD comes this Alco-GE RS3 GN #229 on display in Schenectady, New York.
Drew Mitchem took these photos of Doyle McCormick's GN 274 F7 pulling a short train on the BNSF from Portland, Oregon to CP Rail at New Westminster, BC, Canada. Doyle's GN F was transporting the rebuilt boiler of CP 2816 4-6-4 (the last car in the consist). Photos taken in January 2001 at Vancouver, WA and Castle Rock, WA.
Update: July 2002 - The GNRHS Convention in Portland included a tour of the former SP Brooklyn roundhouse to visit GN 274. The F unit was out of service, but still looked stunning in it's "Empire Builder" scheme.
(left to right): Former GN executive Bob Downing with 274 and yours truly with 274. Photos taken by Lindsay Korst in July 2002.

GN Alco FA2 277-B was taken August 20, 1962 at CN Junction (Vancouver, BC, CANADA), on the point of the International. The photo is from the collection of C. Prutton.

GN 402D, an EMD FT unit shown west of Whitefish, MT, circa 1954. This is from a painting by Russ Porter published for the GNRHS in 1994.

Although not an actual GN engine, this Davenport "critter" (small switch engine) is painted up in the orange/green EB paint scheme. Located in the Hillyard area of Spokane, WA about one block from the X-176 caboose. Photo taken by Lindsay Korst in February 2001.

GN 2020, an EMD GP20 is shown running long nose forward as was the custom for GN first-generation power. This picture is from a Leaning Tree card # 5150, from an original painting by R.E. Pierce.

GN 356C, an EMD F7 is heading a westbound Fast Mail through Montana to Spokane and Seattle. This picture is from a Leaning Tree card # 5181, from an original painting by R.E. Pierce.
Great Northern E units are alongside the Empire Builder at Havre, MT in this December 1948 photo from the collection of J. Henry.

GN 278A, an Alco FA2 southbound just south of King Street, Seattle. (Location confirmed by Bill Sornsin.) Date unknown. Photo by J. L. Hunt.

GN 363-C leads the eastbound Empire Builder along Puget Sound. This is the famous Hedrich photograph with the waving man in the rowboat (from a postcard). From the collection of Lindsay Korst.

GN 351-C leads the Empire Builder west out of Glacier Park. Postcard from the collection of Lindsay Korst.

GN E7 503 in the "simplified scheme" introduced in 1962. Postcard from the collection of Lindsay Korst.

GN 317-A leads a train of taconite pellets approaching Carlton, MN in this photograph by Myron Gilbertson. Postcard from the collection of Lindsay Korst.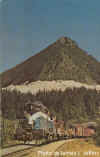 BN 1804, the former GN 731 GP9, running long nose forward, emerges from the west portal of Cascade Tunnel. Photo by James L. Jeffery. Postcard from the collection of Lindsay Korst.

Former GN 2350 RDC-3, Great Northern's only "Budd Car" is seen here at Linnton, Oregon in this May 2003 photo by Robert Ulberg. Now bearing reporting marks of ORRX 31, this RDC is owned by the State of Oregon and is used on the Portland-Astoria "Lewis and Clark Explorer Train".

Update: This photo was taken March 9, 2005 by Lindsay Korst at Linnton, Oregon.

GN's EMD E7 #504 leads the Empire Builder through the Montana Rockies. From a Leaning Tree Christmas card #5251. Original art by Mike Danneman.

GN's locomotive terminal at St. Paul, Minnesota hosts a slew of F and E units in both the original and simplified paint schemes. August 1964 photo by Richard R. Wallin from a postcard.

GN 307-A and GN432B on a train of matched box cars near Minneapolis in 1959. From a Vanishing Vistas postcard. Burlington Northern photo.