Glorious Glacier describes Great Northern's on line vacation show piece, Glacier National Park during the "Big Sky Blue"-era (1967-1970) when the Empire Builder began to stop here (seasonally). The Western Star also stopped at Glacier Park as well.

WARNING: These are fairly large .jpg files (100k to 150k) and may take a while to download (especially if you're on a dial-up connection). Click on the thumbnailed picture to view the page of your choice. Below each page is a brief description.
Front and Back covers

Map of Glacier National Park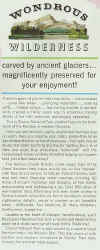 Waxing poetic about Glacier's beauty...
Crevasses and Waterfalls

Great Things to See!
Hints for visiting Glacier Park

#1 - Fishing's fun for young and old in sparkling lakes like this (Lake Josephine, a short walk from Many Glacier Hotel). A rainbow or cutthroat trout's first strike is a thrill no youngster ever forgets. And you don't need a license.

#2 - Beautiful new swimming pool, adjoining Glacier Park Lodge, is large and L-shaped - features clean, sky-blue heated water. Spacious sun deck.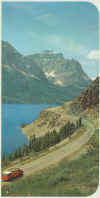 #3 - Going-to-the Sun Road, a 50-mile engineering masterpiece, crosses the Continental Divide - gives motor coach passengers commanding views of Glacier's most breathtaking mountain scenery.

#4 - Horseback party, back from a pack trip, prepares to leave saddle guides and complete the sightseeing via launch cruise across Lake Josephine.

#5 - Leisure on the links. Stroke 'em down watered fairways to tailored grass greens on sporty 9-hole golf course near Glacier Park Lodge. (Also play 18-hole course near Prince of Wales Hotel in Canada's Waterton Lakes Park.)

#6 - Perfect end to a fun-filled Glacier Park day...a twilight songfest at Swiftcurrent Lake. Campfire's warmth is welcome after sunset.


#7 - Prince of Wales Hotel in Canada's adjoining Waterton Lakes National Park abounds with rustic Old-World charm in its picturesque, lakeshore setting.

#8 - Many Glacier Hotel is in the heart of Park's majestic beauty. Swiftcurrent Lake (background) is just one of dozens within easy hiking or horseback distance from this gracious hotel. A stone's throw away: Swiftcurrent Motel, with adjacent gift shop, restaurant.

#9 - Hearty appetites are welcome in Glacier hotel dining rooms. The cuisine, served by cheerful, gaily-costumed waitresses, is famous for both its variety and excellence.

#10 - Glacier Park Lodge at East entrance is largest of four great American Plan hotels in Glacier-Waterton Lakes Parks. Nearby fun: heated swimming pool, 9-hole golf course, riding.

#11 - Lake McDonald Hotel, stands in a "storybook" setting amidst giant cedar trees, overlooking Glacier Park's largest lake. A first stop for West entrance visitors, this hotel is noted for its quiet charm and restful lodging.