WARNING: The following article has NOTHING to do
with the Great Northern Railway. It's just a fun trip
Baolu and your intrepid webmaster Lindsay took to the
Palmetto State.

The Great Northern in Charleston (South Carolina)

Sunday, March 19, 2017

Today's topic: Trying out Alaska Airlines' First Class

As a master chef and foodie, my wife Baolu has always had a hankering for Real Southern Cooking. A couple trips to New Orleans introduced us to Creole and Cajun cooking. Now it was time to sample the culinary delights of the heart of the Confederacy in Charleston.

But first there's the small matter of getting there (2,412 air miles). Recently, Alaska Airlines began non-stop service between Seattle and Charleston. Baolu's birthday is coming up. Let's go!

An early morning taxi ride gets us out to Sea-Tac. With lots of time to kill, Baolu hits Starbucks whilst yours truly samples a crab breakfast sandwich at Ivar's.

Next stop is Alaska's First Class lounge...just because. We manage to find a seat -- the place is jam packed! We refill our empty water bottles and snack on the munchies provided. Finally it's time to trudge out to gate N7 for our flight.

Alaska appears to have completely taken over the North satellite as there is one of their planes at every single gate.

It is a mob scene at N7. We arrive and notice the little indicator board has a green check mark for First Class boarding. We lumber up to the door, but there is no one there to check us in. Hmmmm.... We soon learn they are pre-boarding (it's for the children), but no one else. Hmpf. After cooling our heels for a good 15 minutes, someone finally comes up the jetway to check in First Class. The word "discombobulated" comes to mind.

Finally, we make our way to seats 1D, 1F. Very nice wide seats on this 737 with lots of legroom.

Everyone's onboard 10 minutes before departure, yet we still manage to leave 10 minutes late as they putz around. The takeoff is smooth and we get a beautiful view of four volcanic peaks to the south -- taken by Baolu!






About an hour into the flight, the stewardesses finally unbuckle and begin meal and beverage service. We eventually climb to 37,000 feet for the flight east.

Breakfast is OK. I had the cheese/onion omelet with a generous rasher of bacon and potatoes. B had the oatmeal and fresh fruit.




I had my standard string of Bloody Mary's, but they seemed watered down. In fact, eventually the stew told me they were out of BM mix, so I cut myself off. I believe little Baolu was drinking white wine.

We both took the nice DVD players offered. I watched the Peanuts movie and Baolu watched a chick flick. As we began flying over Lincoln, Nebraska, we both got sleepy. Nap time.

With a generous tail wind (jet stream), we landed early about 3:45pm local time - taxied around the entire airport, then stopped for awhile (no gate ready?).

There are LOTS of Air Force cargo planes on the tarmac. CHS shares the facility with Charleston AFB.

Finally, we trundle up to the gate. We are first off the plane! Always wanted to do that. There are only 3 baggage carousels in the entire airport. Bags took a while to come out.

Long line at Hertz, BUT, they are fairly quick about it AND the car is right outside the door! No shuttle to ride. Nice. We hop into the base model Dodge Journey crossover station wagon family truckster. GASP...there is no rear backup camera or nav system!). Pulled out the iPhone and programmed "The Betty" to take us to our lunch/dinner stop.





It's coming up on 5pm local time when we enter Summerville SC and pull up at the Coosaw Creek Crab Shack!

Baolu is in a Carolina food frenzy so we go overboard.

We order their famous She Crab soup. Outstanding. Thick and delicious with flavor out of this world.





Next up are the hush puppies (lightly fried corn meal balls) and fried green tomatoes.






Both are light and delicately delicious. Again, outstanding.

We had hoped to finish with some oysters, but they are out.

Foolishly, we both order full entrees which is too much. B has crab cakes and I have this monster fried shrimp and bacon BBQ sandwich. As I said. Too much. Moaning and groaning from this culinary onslaught, we roll out the door and down I-26 to Charleston.






Betty takes us right to our hotel ...via some very sketchy neighborhoods in North Charleston.

We are staying at the Marriott Renaissance on Wentworth which is just off King -- the main shopping street. Baolu is a bird in a guilded cage! (these things hang in the lobby).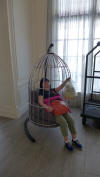 We decided to just valet the van until Tuesday when we'll take it out again.

Check in is fast and we're soon in the room. We discover the cleaning lady left her squirt bottle of cleaner (marked DO NOT DRINK) in the bathroom. In addition, the sink doesn't drain properly and the Kleenex box is empty. B calls downstairs and the staff quickly rectifies the situation, so no harm done.

Despite it being only 6:30pm we are both exhausted and just watch an American Pickers marathon until we both hit the hay.


Monday, March 20, 2017

Today's topic: Touring Charleston on foot.





The hotel has a small (and free) continental breakfast, so we partake. Their hot buttered biscuits with jam are to DIE for. Piping hot, flaky and buttery. Mmmmm...MMMM.

Appetites sated for the moment, we trudge down King Street to Walgreens to pick up some drinking water, some Day-Quil and Kleenex (we are both fighting off the remainder of colds).






Back at the room, we "freshen up", then head out to tour the city. I am "towing" Baolu around today. We head over to the famous six block long Charleston City Market. Baolu recognizes Cory Alston - master basket maker - from Instagram! He and his lady are selling baskets and we vow to come back on the way home to buy a couple.





Actually, the baskets are for sale EVERYWHERE along with the other tourist trinkets and baubles.

Once clear of the market, we continue east to the shore where the Cooper River meets the Atlantic Ocean. There is a huge cruise ship at the pier which has disgorged its passengers.





It is a beautiful sunny day, mid-60's, as we walk along the shore through Waterfront Park. We come upon "Baolu's Pineapple Fountain".








We saunter along, down to Oyster Point and White Point Garden. Beautiful views and architecture along the way.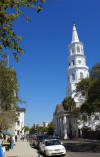 Charleston is located on a peninsula between two rivers, the Ashley and the Cooper. The two rivers were named for one guy -- Anthony Ashley Cooper. Charleston is also called "The Holy City" due to the large number of churchs.

Baolu poses with a stubby little cannon at Oyster Point.






Baolu takes a moment to smell the flowers.





White Point Garden is a shady oasis with an overhead canopy of Live Oak trees.





It is getting on towards lunch time, so we head up Meeting Street (with its stupendous assortment of old mansions) to the Charleston Crab House.








At the Crab House, we begin with a dozen raw oysters (the waiter was really talking them up). Meh. As we discovered in New Orleans, oysters down south are much better fried, broiled or cooked in some way. Hopefully, lesson learned this time. Pacific Northwest oysters are still the absolute best, served raw. That's that. Case closed.





For main course, Baolu has Blue Crab (fried, of course) and I have a "Lowcountry Shrimp Boil" with sausages potatoes and corn on the cob. Both are very good, making up for the uninspiring oysters.





After lunch, we head back to Cory to buy some baskets! Baolu poses with Corey and picks out a nice assortment to bring home.






Time for a nap! Back to the room we go for a little siesta. Ah...we feel refreshed!

OK, time for dinner. Soooo many restaurants on our list. How do you choose? Baolu still has a major seafood hankering, so off we go to Pearlz.





B is still a bit full from lunch, so just has the pork rinds and boiled shrimp with white wine. L has some excellent clam chowder (what, no she crab soup available???). My entree is the Carolina fresh-caught Monk Fish which tastes a bit like lobster! They even give you a little melted butter to complete the deception. It is excellent.







Back to the room for a House Hunter TV marathon and so to bed. We'll be getting Up early tomorrow!


Tuesday, March 21, 2017

Today's topic: Aircraft Carrier, Islands and Martha Lou's.

We are up at the crack of dawn -- lots to see today. We fetch the car from valet and head across the enormous US 17 bridge to Mount Pleasant, SC. Breakfast this morning is at Page's Okra Grill.

Baolu has one of the daily specials, Shrimp and Grits (with sausage and bits of crawfish added). Lindsay partakes of the aptly-named, "Redneck Benedict". Both meals are excellent.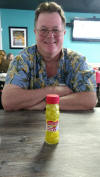 We are both stuffed. Roll me out the door. We have GOT to walk this off. Fortunately, Patriots Point is just a short drive away. We are going to tour the Essex class aircraft carrier Yorktown (CV-10).






Parking is five bucks and tours are self-guided. We walk the long pier out to Yorktown and find ourselves below decks (where they worked on the planes).








The carrier is huge. It's quite a long walk as we toured below decks, on the flight deck and up onto the bridge.










I think people were shorter back then. Yours truly kept bumping his head on the overhead whereas Baolu had no trouble at all.















Absolutely wonderful tour. It makes you proud to be an American. Definitely glad we spent the time to visit.

Afterwards, we stopped to pick up some more water at Harris-Teeter (yes, that's really the name of the local grocery store chain). Baolu had hoped to pick up some Carolina Gold Rice and other Southern Food products, but all they had was just plain Quaker Oats grits. Bah!

OK, time to tour Sullivan Island and Fort Moultrie. The Fort guarded the Cooper River where it enters the Atlantic Ocean. Fort Moultrie is also directly across from the tiny island which contains Fort Sumter, flashpoint of the Civil War.

According to the interpretive center a Confederate Captain James fired the first shot from Fort Johnson over Fort Sumter beginning the Civil War. So the South fired first.






From Moultrie, we drove the length of Sullivan Island. The beach houses (mostly on stilts) were getting posher and fancier. We crossed a bridge onto Isle of Palms. Here the houses were simply breathtaking. Our favorites were three vacation properties by Wyndham. All had nice, golf course putting green lawns. We saw Casa Margarita (house painted lime green); Casa Flamingo (painted pink); and Casa Banana (yellow) which was Baolu's favorite.

From Isle of Palms, we headed back to Charleston for a quick car trip along Tradd Street. I'm a big fan of the John Jakes trilogy North and South and one of the characters (Cooper Main) has a house on Tradd Street, near the intersection with Meeting Street. Baolu humored me. ;p




Haole Tourist Hype!

With still lots of time in the afternoon, we then motor over to Folly Island. No fancy-schmacy houses here! This is definitely the blue collar / middle class beach we'd feel more comfortable at (or could even afford).

What to do about dinner? Baolu wants to visit a Gullah/Soul Food dive called Martha Lou's. It's been written up on Food Network and Martha Stewart as the best fried chicken EVAH.

It's really a tiny, dive restaurant - which usually turn out the best eatings. I was stoked, because I was getting hungry and soul food chicken sounded pretty good about now.

We sat down and ordered some sweet tea and chicken, Lima beans, mac & cheese, okra soup, BBQ white rice, etc.




(that's B tucking into some real chitterlings. Chitlins forever! Y'all....)

45 minutes later the food came out. We each got ONE piece of chicken which was, charitably, OK. It was certainly not all it was cracked up to be. The side dishes were good but tiny TINY portions. Even Baolu was a little disappointed. I hate to say it, but Popeyes is better. Maybe it was just an off night.

Back to the hotel and self park. Time for a healthy dose of Moonshiners TV binge watching and then to bed!


Wednesday, March 22, 2017

Today's topic: We're headed down the Savannah Highway.

Road trip! We're in the South, so the journey MUST commence with a visit to WAFFLE HOUSE, Yeah! Excepting that....oh crap, it's CLOSED! Yep, our intended W.H. is coned off with paper on the windows. Noooooo!!! Fortunately, Waffle House's are common as dirt down here and there's another one just a few miles down the road in Rantowles, SC...Whew!





Oh, so good. Pecan waffles, grits, eggs and sausage. Now the voyage can begin.

Traveling along U.S. 17, about every 5 to 10 miles are permanently installed signs for a construction zone. Where there is no construction zone. Not even an orange barrel. Just 4 signs. But you'll get 30 days in jail if you speed!





Another one of the 4 signs that I didn't photograph was the quaint "Let 'em work / Let 'em live". Ummm....why would anyone not want them to do either?

Another curiosity is we are seeing all these cars, pickups, SUVs and vans with Property Carrying license plates. Apparently these "P" plates allow bearers to have more liberal usage of loading zones. The plates were intended for business owners who haul cargo of some type, but practically everyone has one, especially in Charleston. Maybe just because they can.

On our way south, we veer off U.S. 17 to visit the nice little city of Beaufort, SC. We found out later, this was one of the first Union-captured Southern cities (in November, 1861) which was used as a Yankee stronghold until the war's end. Of course, The United States Marine Corps has their Air Station and Parris Island Recruit Depot nearby.








Next spot to visit is Hilton Head, SC. I had heard so much about this place -- where the wealthy have their vacation homes - golf courses - posh estates - Lifestyles of the Rich and Famous with the aptly named Robin Leach - I've GOT to check it out.

BIG disappointment. Hilton Head is nothing but a large suburb with ordinary-looking houses and lots and LOTS of traffic. Hardly any beach access and strip mall after strip mall. Borrrring.

Thankfully leaving Hilton Head in the rearview, we push on to Savannah. U.S. 17 crosses the Little Back River into Georgia, then the Savannah River into town. We had hoped to get Baolu's picture taken at the Welcome To insert-state-here sign, but all they had was a teeny little SC/GA border sign clamped onto a post. Pikers.






We concentrated our Savannah visit to the downtown area. There are these nice little tree-lined squares every few blocks which is a restful oasis from the hustle and bustle. Unfortunately, the main drag - Bay Street, appears to be a MAJOR truck route and it is unnerving to be standing in front of City Hall as semi after semi nosily trundles by. The ground shakes.

We stashed the Dodge at a parking garage and hoofed it over to the much-heard-about Paula Deen restaurant, The Lady and Sons.

They have a buffet and regular menu for meals, but we didn't eat here! Neither of us were hungry after the massive caloric intake at Waffle House. Paula herself was there, however, so Baolu posed with her!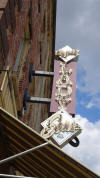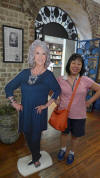 Present company excepted, everyone in that joint looked like Paula Deen -- at least age/gender-wise.

After nosing around the gift shop, we headed out to Chippewa Square where they supposedly filmed the bench scene for Forrest Gump. Although the bench was removed from the square (to the Savannah History Museum), we didn't see any mention of the movie in the square itself. The feature attraction in the square is this guy, Oglethorpe. Try saying THAT three times quickly. Apparently, he founded the colony of Georgia way back when.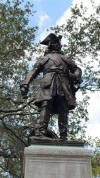 After crossing the Bay Street juggernaught (with a dandy view of the gold domed City Hall building), we got down to the Savannah River. The old warehouses have been restored into chic restaurants and yuppie lofts. At least this part of the city is touristy and walk-able.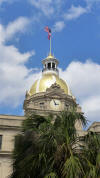 It was just early afternoon, but we both had had enough of Savannah, so it was time to punch home for Charleston.

Approaching the outskirts of Charleston, we spotted and pulled into a Food Lion grocery store. These guys had a much better selection of southern foods to bring home. We stocked up, also picking up a couple bottles of wine to drink in our hotel room. Food Lion had a surprisingly good selection of Washington wines as well as Sonoma and Napa Valley vintages.

Finally, dinner. Right on U.S. 17/Savannah Highway is a simply marvelous BBQ joint called Swig and Swine.
OUTSTANDING. Absolutely the best BBQ I've ever had, bar none.

Once of their mottos is, "Horrifying Vegetarians since 2013". I had to get the T shirt.






Well, let's see. Baolu had the pork bellies and sausages with sides of potato salad and mac & cheese.





Lindsay had beef brisket, pork bellies and sausages with sides of mac & cheese and beans.





Huge portions. They give you TWO sausages. Four sauces to choose from - my favorites being the Carolina Red and the Mustard. Hmmmm...my mouth is watering. Quite possibly the best meal of the trip. Might have to come here again...





Gluttony thus sated, we waddled back to our room, uncorked a cabernet and toasted the night away.


Thursday, March 23, 2017

Today's topic: Forts and Plantations, Queens and Porkers

I am up early as we are taking the first tour of Fort Sumter today. We have a light breakfast at the hotel once more, then it is a 20 minute walk to the Charleston aquarium and the boat dock.

Our boat shoves off at 9:30am and takes about 30 minutes to cross Charleston harbor over to Fort Sumter. It is sunny, but cool as there is a strong 20mph wind battering us all morning. We are both wearing warm jackets.







We are given one hour at the Fort (more than enough time to see everything) and the first 30 minutes are a very interesting talk from Ranger Gary (it's a National Monument run by the Park Service). We learn that Sumter was one of a chain of forts built for coastal defense after the War of 1812. Work started in 1829 but was STILL incomplete by 1860. It was originally 50 feet / 3 stories tall. Union bombardment during the war reduced it to one story - what you see now. At this point in his talk, Mister Ranger pointed behind him -- to a mortar shell STILL embedded in the brick. Hopefully it has since been un-armed....











Very interesting visit. Even Baolu, who is not much of a history buff, was impressed. They had us back to the dock about 11:30am. Time to go for a nice, long walk and build up an appetite for the HUSK restaurant on Queen Street! Lots of online praise. Lots of mention in national food magazines. Lots of people ahead of us on the waiting list. 90 minutes of people ahead of us.

Not gonna work. The gal at reception took sympathy with our plight and recommended the restaurant next door! This turned out to be 82 Queen (yes, the name is the address). This is ALSO on our list of must-eats. We checked it out.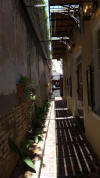 They have tables! We can get right in! We march down a long corridor and into this beautiful courtyard and are seated right next to a rustic iron gate (lots of rustic iron gates, fences, lamp posts in this city). Very nice spot!

We both order the same thing. A glass of Joel Gott Cabernet, a cup of she crab soup and catfish.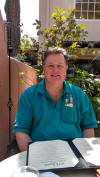 Another excellent seafood dinner. Surprisingly filling -- no room for dessert.

OK, back to the hotel to fetch the car.

Once in the Dodge, we head our way up the Ashley River Road to see Middleton Place (Baolu's pick). Actually, there are two other plantations on this route, Drayton Hall and Magnolia Plantation, but we aren't visiting either one today.





It is another beautiful sunny day for a walk. We pay for the self-guided tour of the grounds and after studying the provided, confusing map (and the even more unclear verbal instructions from the cashier), we are quickly doing it backwards! Finally got it straightened out after a few false turns and dead ends.








Middleton Place's specialty appears to be azaleas with thousands of plants lining the paths. It appears we just missed the full glory of the season, but there are still a few blossoms left to photograph.






There are many huge live oaks on the property - some with wires and posts attached to keep them up!







In addition to all the hidden gardens and hedges, there are vast lawns behind the house which slope down on terraces to the river. It is a a very restful and peaceful spot. In fact, we both sit down on the grass for about an hour and B even takes a little cat nap!





Middleton Place's "mansion" is actually the south wing of the original house. The main building and north wing were looted and burned down by Union soldiers. In fact a sign (please excuse the bird poop) NAMES who burned/looted and WHEN (56th New York Volunteers/February 22, 1865). Damn Yankees. What was left of the main building and north wing tumbled down during the earthquake of 1886. They have earthquakes in South Carolina?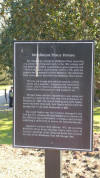 Past the south wing, we walked through the farm area and down to the Mill pond and along the Ashley River. Finally, we took the tour backwards again, picking up the places we missed in the first place.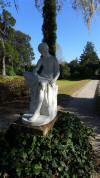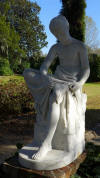 Selfie along the Ashley



It was now 5:30pm and time for supper. Yep, Swig & Swine again!





This time B just had pork bellies 2 sides of potato salad and cole slaw.





L had beef brisket and ribs with 2 sides of beans and potato salad.





Again, just as outstanding as before.

Back to the hotel. After stashing the car, we walked to Walgreens once more to get some Carolina Gold rice. No grocery store seemed to carry it! (Update: since coming home we've sampled some -- it is very good!)

Bottle of wine to wash down the BBQ and off to bed. The end to a perfect day! (Baolu's favorite day of the trip.)


Friday, March 24, 2017

Today's topic: Lions and Tigers and Bears.

Poor Baolu. Lindsay has her up at the crack of dawn AGAIN. Our mission today is Tiger Spotting at the Riverbank Zoo in Columbia, SC.

We check out early -- the staff looks bleary-eyed, like they just woke up. Baolu gets them to adjust the bill as we had only used valet parking for two nights (higher rate). When we got home, discovered they had completely removed the self-parking charges for 3 nights! They really were sleepyheads.

Soon, we are zooming up I-26 with the first stop at (drum roll, please) WAFFLE HOUSE!! Although they forgot the pecans in my waffle, breakfast was still excellent. On to Columbia.



LONG LONG 105 minute drive to the state capitol. Baolu managed a couple cat naps as we zoomed along at 75 per. Riverbanks Zoo is located right next to some CSX tracks and to torment me further, I kept hearing five chime Amtrak horns (which I think CSX uses) for about the first 45 minutes of our visit. Never actually saw a train though. Damn.
Once in the zoo, Baolu poses with a tiger!





Riverbank has 3 of the big ones - Siberian Tigers - only one of which is in the main enclosure at a time. We headed right over there and WOW, there's a BIG one marching back and forth out in the open! Baolu LOVES her some tigers and we got a tremendous performance from the big cat.













As we were watching the show, we overheard from a passing zookeeper that the tiger had just been fed, which is why he was so active. Baolu was saying, "Hello, Baby" and other sweet things to the big predator and I swear the tiger was looking her way.

All good things must come to an end and finally Mister Tiger settled down and headed for his little cave. All we could see now was the end of his tail, which would flick now and then. Tiger wasn't done -- he did a few, "Owwww - oooooo's" which, I believe, is their mating call. Baolu was very impressed.

Show's over. I'm glad we got here early! We made the rounds, saw the grizzly bears, lions, flamingos, you-name-it. It is a very nice little zoo, actually. Very well done. The place was PACKED with Oakhill Elementary School students -- all wearing colored T-shirts (red, blue, orange, etc.).






Time to head home (11:45am). We stopped by the Tiger pit one last time, but just saw the tail flicking. Baolu hit the gift shop and picked up a throw pillow with a tiger on both sides. The cashier asked if she actually saw their tiger. Baolu described the morning display and the cashier was VERY impressed saying the tiger NEVER comes out in the open! That, my friends, is a lucky encounter.

We turned around and headed back to Charleston for the flight home. I had selected three alternatives for lunch - but Baolu picked a fourth....HARDEES! (Carl's Jr. on the left coast). She had spied a 2 for $5 fish sandwich ad on the window.

I wound up with some enormous bacon cheeseburger thing which was good. That should hold us for a while.

Good thing too. We turned in our rental car, headed to check our bag and...there was no one at the counter! Rumor had it they don't open until two hours before flight time. Finally they showed up and....discombobulation again. Couldn't print baggage tags from any of the kiosks. Woman in front of us was trying to check EIGHT large items. Chaos. Finally we did the old stand-in-both-lines trick and got up to the counter. As we walked to TSA, eight-bag-lady was still futzing around at the counter.

We headed out to the B concourse which was packed with humanity and stuffy. Don't they have air conditioning in this place? Apparently not. We stood in a line three deep to get us a couple drinks for the long wait. The flight from Seattle was half an hour late. FINALLY we were on board and winging our way home. Back to the rain, back to the clouds, but still nice to sleep in our own bed.







Thanks for coming along on our trip to Charleston. In summary - VERY friendly people. Everywhere you go, people say hello -- even in elevators. For the most part, wonderful food (cook your oysters) and definitely kick ass BBQ. We had a great time. Thank you South Carolina!!!

THE END