GN in Squamish
"Playing trains with Mark"
by gngoat@gngoat.org
Friday, July 3rd, 2015

Finally, I was able to visit the "West Coast Railway Association" (http://www.wcra.org/) museum in Squamish, BC, Canada. It turns out my big brother Mark had always wanted to see the museum too! After a quick run north to Mark's house in the Vancouver area, we set off bright and early for Squamish.





Transportation was provided by (takes a deep breath...) Mark's 2011 blue-on-white, six-speed, 550 horsepower, supercharged 5.4L V-8 Ford Shelby Mustang GT350 (exhale)! This is the ultimate train-spotting vehicle for all your train-chasing needs. That's Carroll Shelby with one of his 2011 Mustang creations.

Friday, July 3rd might have been a national holiday in the States, but up here in Canada, it was just a normal working day. Lots of traffic -- after plodding through New Westminster and crawling across the Second Narrows Bridge, the traffic magically disappeared and we roared west on the Upper Levels Highway (Canada Route #1).

Reaching Horseshoe Bay, we stopped for breakfast at "Troll's" (http://www.trollsrestaurant.com/), a classic family restaurant on the waterfront.

Lack of signage (where IS this place?) meant we turned off the Highway too early into Squamish proper, where we wound around until we saw a teensy sign pointing the way. We were 20 minutes early.

I gingerly opened the side door to the roundhouse and it turns out they were already open! After getting our tickets, (thanks, Mark!) we set off for a couple "establishing shots".




The start of the tour - approaching the built-to-PGE-plans, re-created Squamish two-story depot; Overview of the turntable and depot area.






The first bit of rolling stock is a unique caboose, BN 11474 (nee-GN X-180, then renumbered X-325); this home-built caboose used the frame and trucks off an old 1943 Baldwin switch engine. It spent much of its life in transfer service near the GN's, later BN's New Westminster BC yard.





It's a Great Northern Alco RS-1! Well, not exactly. Built by Alco in 1954, GN #182 began life as Minnesota & Saint Louis Railroad #234. WCRA painted this locomotive as a representative of the Great Northern Railway's presence in British Columbia.






I have a soft spot for this little critter. BC Hydro #941 is a GE 70 tonner built in 1947 for the utility's railroad. I have fond memories of seeing these little switchers on short trains or switching during my younger days living in B.C.; Beautiful restoration of Canadian Northern "Pullman Spirit" in green, gold and cream. You can read the complete history of the car here... http://cnrailtours.com/history.html Hmmm... touring on this car sounds like fun!






PGE home shop built (in 1969) extended-vision caboose #1859. I probably saw this caboose run by in West Van when it was new.; PGE #722, a former 1943 "troop-sleeper" built by Pullman-Standard and found its way up to the PGE after WW2.





"Bill and Dorothy Lahr" is WCXX 3218 in Heritage CN colors, getting a little work done in the shop.; on another track, we see Canadian Pacific 2514, a 1905-era Colonist Sleeper built in CP's Angus Shops. These cars are inside the actual PGE Squamish shop building -- moved intact from a spot about a 1/2 mile south of here.





WCRA has the best collection of restored, heavyweight observation cars I've ever seen. Reposing in the morning sun is West Coast Railways, "Alberta" , former CP #8 built 1892 in CP's Angus shops.; Inside the roundhouse, my brother Mark leads the way onto "British Columbia". Built in 1890 by Barney & Smith, "British Columbia", nee-CPR #16, is a beautiful restoration job by the folks at West Coast Railway. Let's take a look inside...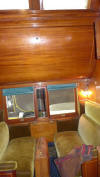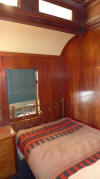 There are two observation areas on either end of the car. First, we have a table, silverware and china set up for dining; Second view is a "section" set up for daytime use; Third view is a bedroom -- love that orange & green blanket!; Fourth view is corner sink in the same bedroom; Fifth view is Mark getting expansive in the second observation area - appropriately, that's a '37 Ford over his left shoulder.





Mark checks out a Ford-built PGE Fire truck. (The back of Mark's Ford shirt reads, "Built Without Your Tax Dollars".)





Check out this funky-looking caboose! A former BC Rail extended-vision, modified for use on the electrified, but now abandoned "Tumbler Ridge" subdivision. Check that mini-transformer on one end and observation area in the cupola! That's my brother Mark talking to the gal who resides in the caboose. Plans are to paint this up in a Great Northern Railway paint scheme!





Budd Cars! Dig that early PGE orange/green paint scheme! BC-33 is an RDC-3 originally built for the Pacific Great Eastern Railway in December 1952.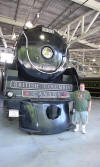 And finally, the star of the show. Canadian Pacific 4-6-4 #2860 "Royal Hudson" resplendent in maroon, stainless steel, and black. Still owned by the Province of British Columbia, #2860 awaits funds to do a boiler inspection to determine if repairs can be made to bring it back into service. The Royal Hudson ran in excursion service from North Vancouver to Squamish and return from 1974 to 1999.

On permanent loan to WCRA, Yours Truly (holding on to 2860) hopes the Royal Hudson will once more steam triumphantly at the head of a passenger train.

Mark and I had a great time at the museum, and it was wonderful to see the Royal Hudson again. We both wish WCRA had better signage out on Hwy 99, but we're told local authorities keep a tight leash on any signage along the road to Whistler. Too bad. The folks at the museum said their big money-makers are the "Thomas Day Out" in May and then the "Polar Express" at Christmastime -- which pretty much funds them the entire year.

Much useful info for the above story was gleaned from WCRA's Official Souvenir Guide, purchased for $5 in the gift shop. Lindsay and Mark say, "Check it Out" and VISIT http://www.wcra.org/ in Squamish!!!

THE END