History of Great Northern Passenger Timetables
Special thanks to Ben Ringnalda and Scott Tanner
for their research and inspiration on this topic.
In its 1892 to 1970 corporate existence, the Great Northern published a tremendous variety of their schedules and services for public consumption. This is just a small portion of what was available from my collection which, hopefully, will be of interest to the railway historian.
WARNING: These are LARGE .jpg files and may take a while to download (especially if you're on a dial-up connection). Click on the thumbnailed picture to view the page of your choice. Below each page is a brief description.
September 1901 GN Public Timetable - courtesy of the Ben Ringnalda collection. This timetable touts traffic via the Great Lakes on the GN ships "North West and North Land".
April 1910 GN Public Timetable
Oldest timetable I own. Released one month after the Wellington Avalanche disaster, the town has not yet been renamed to "Tye". Interesting-looking trainshed over the five named GN passenger trains listed on the back.
July 1921 GN Public Timetable
Very austere brochure in black and white. This was issued right after control of the railways was returned from the government. Government-issued timetable (not shown)for GN listed it as Great Northern RAILROAD (see Page 48 of GNRHS Reference Sheet #335, "Oriental Limited" by Theodore F. Doyle, June 2006).
July 1926 GN Public Timetable
Forward-facing goat logo and large Glacier Park ad with flapper and gent in a cap.
June 1932 GN Public Timetable
Rocky has no eyes! Plunging into the Depression, the ad now emphasizes bargains.

March 1934 GN Public Timetable
Rocky, once again, has eyes. No big advertisements as few are traveling for pleasure.
Winter 1939 - 1940
Side-facing goat logo (introduced in 1936). The Empire Builder is now air-conditioned! (huge blocks of ice loaded underneath the cars at various stops -- fans blow over ice for cool air)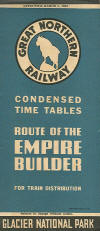 March 1945 GN Public Timetable
Somewhat rare blue condensed timetable (most were red at this time).
July 1948 GN Public Timetable
Five E7 Empire Builder consists lined up on the cover. Timetable has switched to orange and green. Oriental Limited uses old heavyweight Empire Builder consist.
October 1951 GN Public Timetable
Empire Builder reequipped with new new trainsets from ACF and Pullman. Original EB consists now make up the Western Star, GN's second streamlined train (which stops at Glacier Park). Both trains are now using EMD F units. The E units have been bumped to secondary passenger trains.
June 1956 GN Public Timetable
Empire Builder finally gets dome cars from Budd Company! 3 short domes for coach passengers and the big six-axle full dome car for Pullman passengers. All domes are referred to as "Great Domes" on the GN. This is the zenith of streamlined passenger service on the GN.
October 1959 GN Public Timetable
Great Northern switches to "blue" background timetables through much of the early 60's. Check that guy smoking his pipe in the dome! Luxury and contentment...

October 1966 GN Public Timetable
Last timetable in the orange/green/gold stripe paint scheme era.

June 1967 GN Public Timetable
One of the first (if not THE first) Big Sky Blue timetables.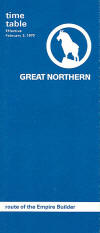 February 1970 GN Public Timetable
The very last Great Northern passenger timetable before the BN merger. Notice how much darker the blue is.
April 1970 Burlington Northern Public Timetable
Just for historical sake, here's the first system timetable put out by Burlington Northern. Amtrak took over all passenger service in May 1971.