Birthday cake
Today, I attended the celebration for King Street Station's 100th birthday. It started off at Seattle City Hall with a panel discussion of the station by various interested parties: BNSF, Sound Transit, City of Seattle, WSDOT and others.
I put out a bunch of color GNRHS membership brochures at the check in table and all were gone by the time I left. About 50 people attended the meeting.

Artist J. Craig Thorpe talking to ex-GN electrician, Walt Grecula. Steve Leach of WSDOT is just to the left of Walt.
I sat with Walt Grecula (ex-GN Engineering Dept) and Steve Leach (WSDOT) and took pictures of all the principal speakers. The panel discussed King Street Station and what it meant to them and their organizations.

Panel Discussion about King Street Station. From RIGHT to Left: Kevin Daniels of Nitze-Stagen, Roger Jacobson of BNSF, Martin Young of Sound Transit, Rich Mason of Amtrak, Gary Johnson of City of Seattle, Ron Sheck of WSDOT, Lloyd Flem of Washington Association of Railroad Passengers.
Later, J. Craig Thorpe unveiled his painting of King Street Station and sold posters of the commissioned artwork. I picked up a copy of the poster for a special today-only price of $20.

J. Craig Thorpe and Judy Giniger unveil commissioned artwork of King Street Station.

Artist Thorpe talks about his painting.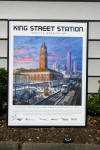 King Street Station poster. Picture frame, garage, shrubbery, and lawn sprinkler not included.
After the meeting at City Hall was over, Steve Leach and I walked down to King Street Station to see the latest improvements. Just inside the main doors from King Street is the "Compass Room". It has been completely restored to its former glory complete with period light fixtures (white globes), new doors, granite on the walls and green & gold mosaics on the pillars. The mosaic of the compass on the floor has been cleaned. The effect is stunning. It's like stepping back in time 100 years.
The Compass Room in all its period-restored glory.
Steve talked about some of the plans for upcoming improvements at King Street. These include a new roof (dark green tiles, like the original) hopefully this summer. Steve says the biggest problems he has is keeping seagulls off the roof -- they haul an amazing amount of junk up there. And the little darlings are nesting in the gutters.

Steve Leach of WSDOT points out historical photographs of the station.
Next year should be (hopefully) the removal of the hated false ceiling which will expose the ornate plasterwork above. Steve took me up on the 2nd and 3rd floors to peek inside at the original ceiling above. KSS is going to be huge inside when the drop ceiling comes down.

Above King Street Station's suspended ceiling...the glory that once was.
Also, the plan is to move the baggage area back where it was, move the ticket agent area to the baggage area, and create a First Class Metropolitan lounge trackside.
In the back rooms, Steve showed me a series of high-backed wooden benches that came out of Union Station across the street which will eventually be restored and placed in
King Street's waiting room. Also, they have a standard panel of plaster created from a mold of the original artwork which they use to replace any areas that need it.
King Street Station, interior diagram on baggage cart in depot lobby.
There's still a lot to do, but for the first time since I moved to Seattle (1976), I can see real progress being made in restoring King Street Station to its former glory.
I ran into John Strauss who I hadn't seen in many moons. He say's he's going to try to make it to Kalispell this year, possibly coming out with Bob Downing and maybe even via business car.
At 2:30pm, the press arrived and more memories of the depot were recorded for posterity.

Walt Grecula interviewed on camera.
Click here for press coverage of the station's birthday.

Ron Sheck of WSDOT talks to the press.

Amtrak Stationmaster, Marlene Koob discussing her memories of King Street Station.
After the festivities were over, I walked outside in the sunshine to take some pictures of the station's exterior on her 100th birthday.

Main entrance to King Street Station. Compass Room is just through those doors.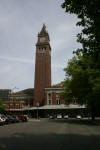 Station and Tower looking east on King Street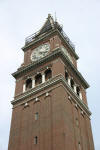 Close up of top part of KSS tower.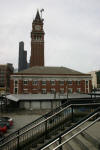 King Street Station looking north from Weller Street pedestrian overpass.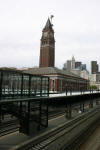 King Street Station looking north from Weller Street overpass next to Fourth Avenue.
This concludes my coverage of King Street Station's birthday. To read about how I climbed to the top of the station's tower (and took pictures along the way), click the following link: King Street Climb

THE END