This page contains a whole slew of postcards I picked up at the 2007 Minot convention.
WARNING: These are large files and may take a while to download (especially if you're on a dial-up connection). Click on the thumbnailed picture to view the image of your choice. Below each picture is a brief description.
Map of old and new lines over Stevens Pass

The Seattle - Spokane "Cascadian" somewhere in the Cascade Mountains. Photo courtesy of R.R. Wallin.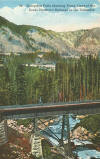 View from Deception Creek when the GN ran over the line to Wellington.

Publicity shot of the 1947 Empire Builder along the Columbia River.
Two views of Horseshoe Tunnel at Martin Creek on the old Wellington Line.
Six early views of King Street Station, Seattle, Washington.

View of the original Cascade Tunnel.

Hikers at the old Cascade Tunnel.
Three views of the old Scenic, WA Hot Springs resort.

Another hiking group next to a snowshed on the Wellington line.

GN publicity shot of EMD FT's at Blacktail on Marias Pass.

GN publicity shot of EMD FT's pulling a string of new boxcars.

The Western Star in a GN publicity shot near a dam in Idaho.

GN publicity shot of E7 equipped Empire Builder in Montana.

GN 5011, a Y-1a electric at Wenatchee. Photo by Stan Kistler.

GN dome cars from a publicity shot near Bison, Montana.

Western Stars pass just west of Whitefish along Whitefish Lake, Montana.

GN publicity shot of EMD E7's on the Empire Builder, 1947.

GN X-244 caboose in a publicity shot behind some orange boxcars.

EMD FT's crossing Two Medicine Bridge near East Glacier, MT.

The 1947 edition of the Empire Builder just east of Glacier Park.

Original electric locomotives approach Wellington, WA

Close up of electric boxcabs on the Wellington line.

Photo of GN 1147 steam engine at Wenatchee. Photo by Dennis Dilley.

GN Ore Dock #4 at Allouez, Wisconsin.

Early view of GN rail yards in Minneapolis, MN.

A string of stored steam locomotives at Superior, Wisconsin.
============================================
end of Minot convention photos

Rocky Mountain Goat - Glacier National Park
Photo by Hileman

Iceberg Lake, Glacier National Park
Photo by Hileman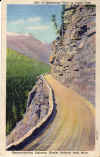 A spectacular view on Logan Pass
Going-to-the-Sun Highway, Glacier National Park

St. Mary Lake from The Narrows, Glacier National Park
Photo by Hileman

Great Northern Station, Minneapolis, Minnesota
City of Lakes and Parks