NEW SPECIALIZED FREIGHT EQUIPMENT
Can you name these cars and their uses?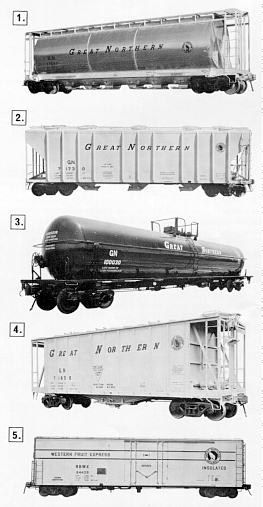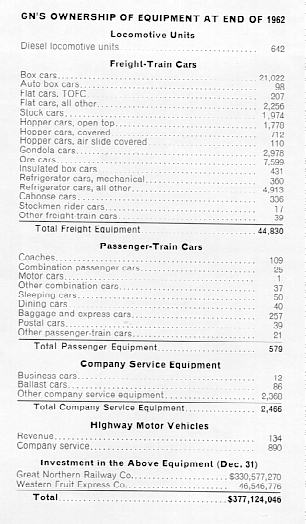 [ 1 ]
Designed primarily for flour, sugar and grains, this "jumbo" center flow hopper car is used by GN to transport Zonolite eastbound and soybean meal westbound. The big aluminum car has three compartments with a total capacity of 4,000 cubic feet, and can haul twice the cargo of a standard hopper. Ten were purchased in 1962.

[ 2 ]
Another "jumbo" added to the GN freight car fleet in 1962 (we bought 40) is this steel triple covered hopper, designed for dry bulk products and used primarily on our line for transporting malt barley, corn, wheat, safflower meal and soybean meal. Like the aluminum center flow car, capacity is 4,000 cubic feet.

[ 3 ]
Tank cars came super-sized in 1962, too. This 59-foot giant is identified as a crude oil tank car, but on the GN has been carrying coconut and soybean oils and cresylic acid as well as crude. The 23,450 gallon capacity is nearly double that of the standard crude oil tank car. Fifty were delivered to us in 1962.

[ 4 ]
Twenty of these new air slide covered hopper cars were built for Great Northern in 1962, bringing our ownership to 110. This highly specialized car was first introduced on the GN in 1954 and is used in handling bulk shipments of flour and sugar and, more recently, soybean flour.

[ 5 ]
Western Fruit Express Company is a GN subsidiary usually associated with the movement of perishables. But the WFE insulated box car pictured here (135 purchased in 1962) is designed to haul high grade commodities needing some protection from temperature changes and excessive humidity but not requiring heating or cooling. Such commodities moving in these cars over the GN include tin plate, plywood, canned goods, appliances, beverages and sacked flour.