Go Great Northern to Seattle World's Fair - Century 21 Exposition
April 21 - October 21, 1962

This early 1962 brochure was published by Great Northern Railway to advertise the upcoming Seattle World's Fair.
WARNING: These are large .jpg files and may take a while to download (especially if you're on a dial-up connection). Click on the thumbnailed picture to view the page of your choice. Below each page is a brief description.
Front cover with drawing of Space Needle and Great Northern logo.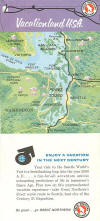 Inside fold cover - Vacationland, USA. Detail map of Puget Sound area.

Heavily-retouched artist's vision of Century 21 Exposition site from Queen Anne Hill.
Seattle welcomes you to Century 21...the first international exposition to be held in the United States in 23 years.
Rocket through Space at the speed of light as a "Spacearium" takes you on a simulated journey to the outer planets. Browse in a home, an office and a food center -- each constructed full-size - and a century ahead of time. Thrill to spectacular, block-high views of Puget Sound, Mt. Rainier, the Cascade and Olympic mountain ranges as you "dine in the sky" atop a Space Tower with revolving crown. Ride the world's first high-speed Monorail. Marvel at a myriad of colorful exhibits featuring art, science, commerce, industry and cultures of foreign lands.
Visit exotic bazaars, gay shops and restaurants, authentic native villages. View renowned works of painting, sculpture from the Renaissance to the Space Age ... on magnificent display in 40,000 sq. ft. Pavilion of Fine Arts. Watch an endless parade of international performing arts, sports and other spectator events. See exhilarating evidence of how today's most advanced thinking in architecture, design and technology will provide tomorrow's everyday living.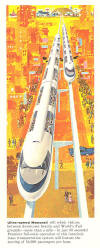 Artist's conception of Seattle Monorail (it looks quite different, actually)
Inside upper pages of brochure - artist's drawings about the fair.

Mount Rainier - sightseeing in the Seattle area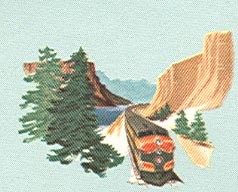 GREAT WAY TO GO - on Great Northern's two great Vacationland trains; incomparable Empire Builder and Western Star.
Great travel adventure - and it begins the moment you step aboard. Ride rested and relaxed in stretch-out, move-about comfort - your choice of reclining leg-rest coach seats or spacious Pullman accommodations. Enjoy the "greatest meals on wheels" ... courteous, attentive service ... spellbinding scenery. You'll never know what a great experience a train ride can be until you've traveled on Great Northern's incomparable Empire Builder or Western Star. Two trains a day, each way between Chicago and Seattle via St. Paul-Minneapolis and Spokane. Go great - go Great Northern!
Inside lower pages of brochure - Scenes on GN trains and sights along the way.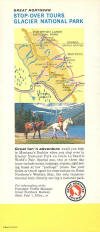 Back Cover of Brochure.