The following is a terrific color brochure I picked up on Ebay about GN's secondary train, The Western Star from March 1958.

WARNING: These are fairly large .jpg files (100k to 250k) and may take a while to download (especially if you're on a dial-up connection). Click on the thumbnailed picture to view the page of your choice. Below each page is a brief description.

The Western Star

The rest of the Western Star

Western Star route map

Mount Rainier, Mount Shuksan and some cheesecake

Inside the Mountain Series observation-lounge car

Riding in high style on the 'Star...

Pullman accommodations

Glorious Glacier

Jammer Bus "Going-To-The-Sun"

Going Coach

Dinner in the Diner

Cafe-lounge car

Once more onboard the Mountain series observation car

Welcome to Glacier Park!

Romping in the beargrass; more cheesecake

"Happy Trails To Yoooouuuu...."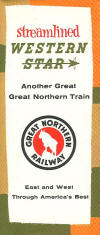 Cover Page