GNR "Special Instructions" July 1, 1947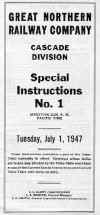 Note: So you don't have to squint, the above "fine print" reads as follows:

"These instructions constitute a part of the Timetable currently in effect. Employes whose duties are in any way affected by the Timetable must have a copy of the Current Special Instructions and Current Timetable with them on duty."

I.E. Clary, Superintendent
I.E. Manion, General Manager
J.B. Smith, General Superintendent Transportation

This section features a complete Great Northern Special Instructions (No. 1) for the Cascade Division taking effect at 12:01 a.m. Pacific Time on Tuesday, July 1, 1947.

It is a nifty look into train operations along the Great Northern Railway in the Puget Sound region from 1947. At this time, the GNR was running steam, electric and diesel locomotives across this division making it one of the most diverse from a motive power standpoint.